If you wish to distribute your music, Songtradr offers distribution to all major streaming platforms including Spotify, Apple Music, Deezer and more.
Note: Distribution is included in our Songtradr Pro package. Upgrade Now >
HERE'S HOW:
Login to your account
Click Distribution on the left navigation bar
Click Create new Album/EP Release

Type in the Release Title of your Album or EP
Click Create Release

-----------------------------
1) HOW TO ENTER DETAILS:
Select Release Title Language
Select Country of Origin
If applicable, enter Version e.g. 25th Anniversary Edition
If applicable, enter Record Label
If applicable, enter Catalog Number
Click + Create New Artist to enter your artist information or select a previously inputted artist from the dropdown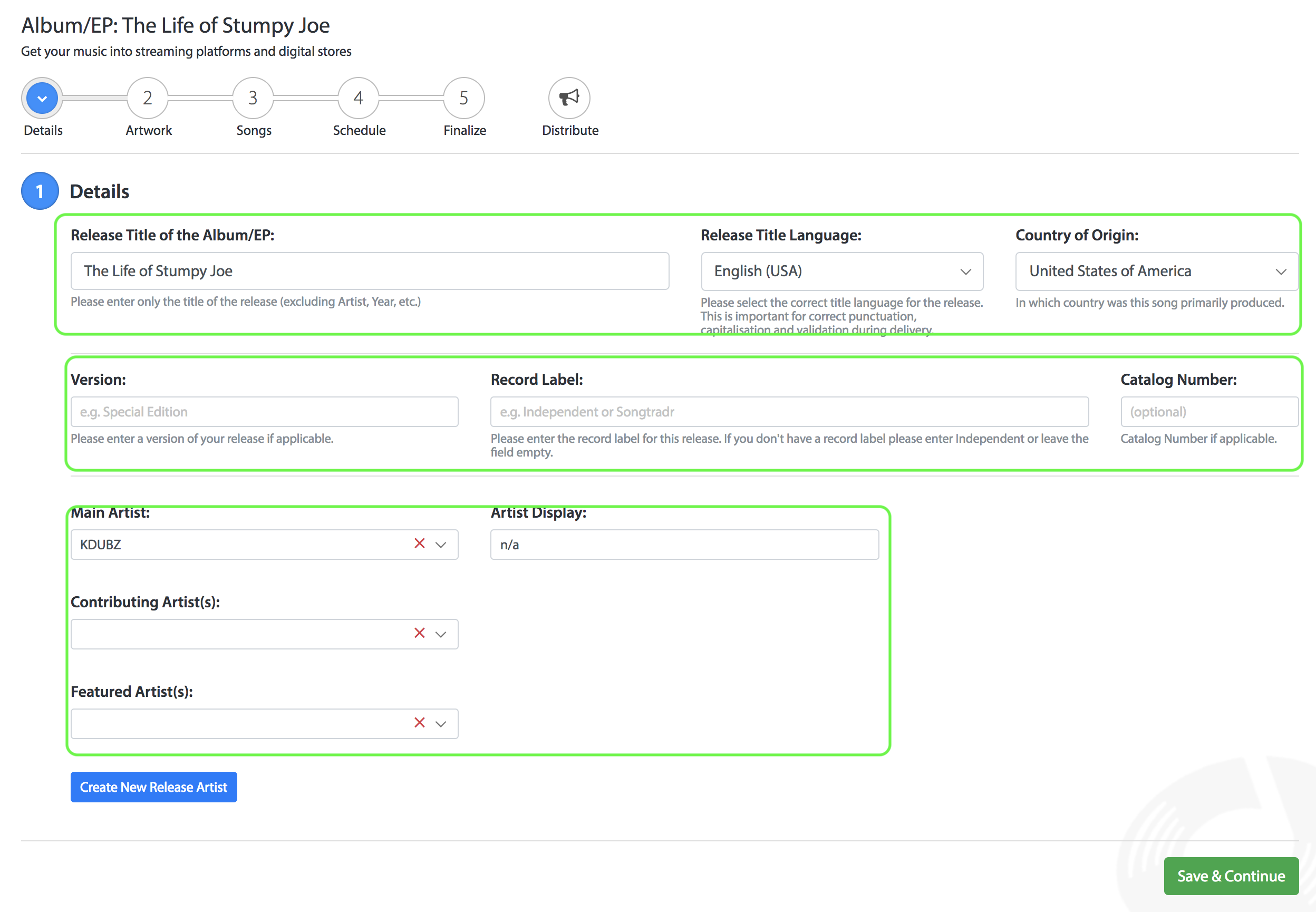 If there are no prior release artists, the Main Artist: box will allow you to create one by clicking on Create Artist

This will bring up a new dialog box where you can:

Enter your Band Name (or Artist Name) and your Last and First name
Click Create Artist when you are done
Repeat steps for Contributing Artist(s) or Featured Artist(s) (if applicable)
Click Save & Continue when you are done
NOTE: Create an artist here if you have any features or contributors who are on the majority of tracks on your release. Otherwise, add them on a song-by-song basis.

-----------------------------
2) HOW TO EDIT YOUR ARTWORK:
Click on the Edit Artwork or on the empty image to open the Artwork Editor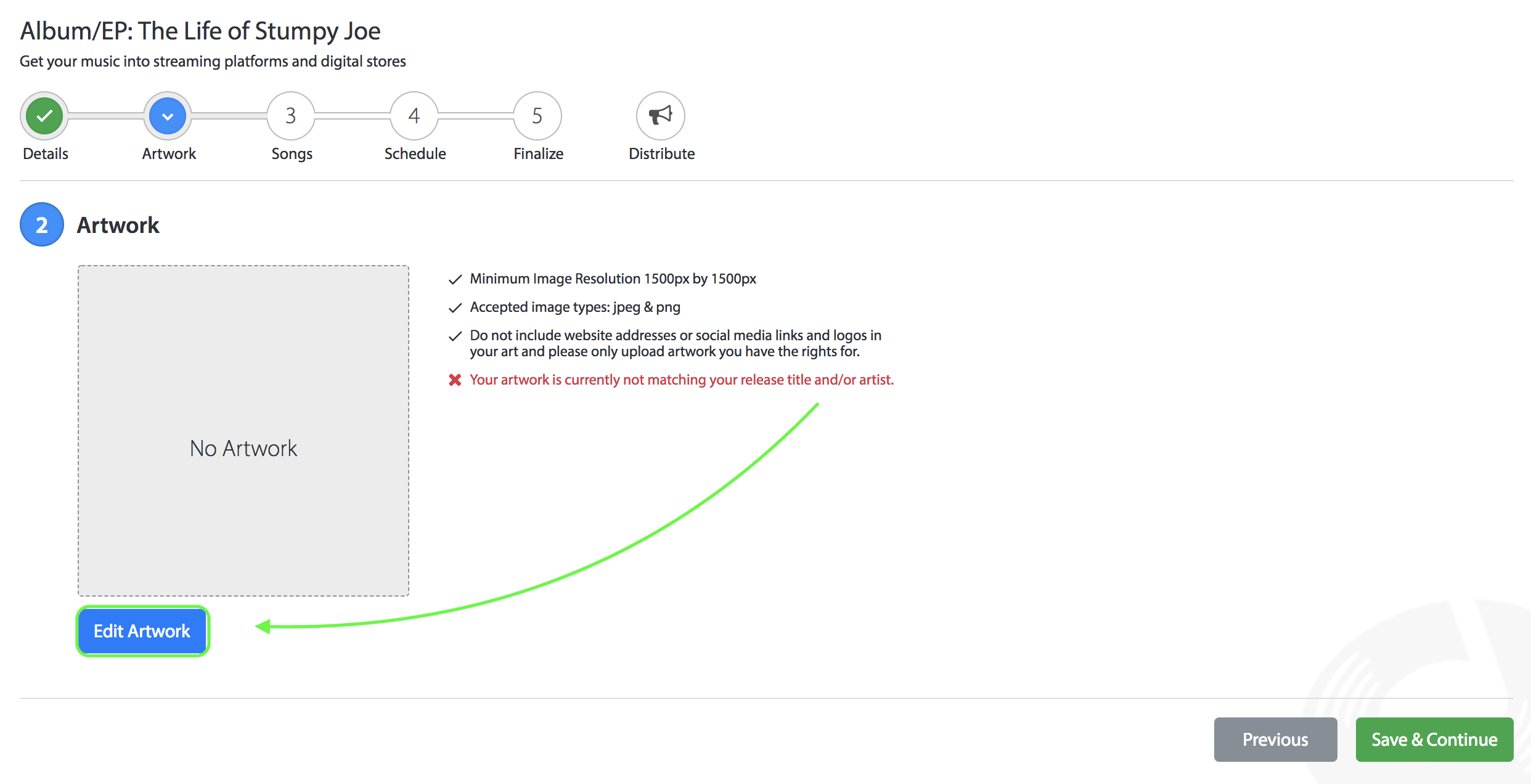 An image will automatically populate the Artwork box.
To change the image:
Choose an image from Unsplash
or
Click Upload your own to choose from your files
Note: Your Release title will automatically populate in the search bar, but you can type any query to populate different photos.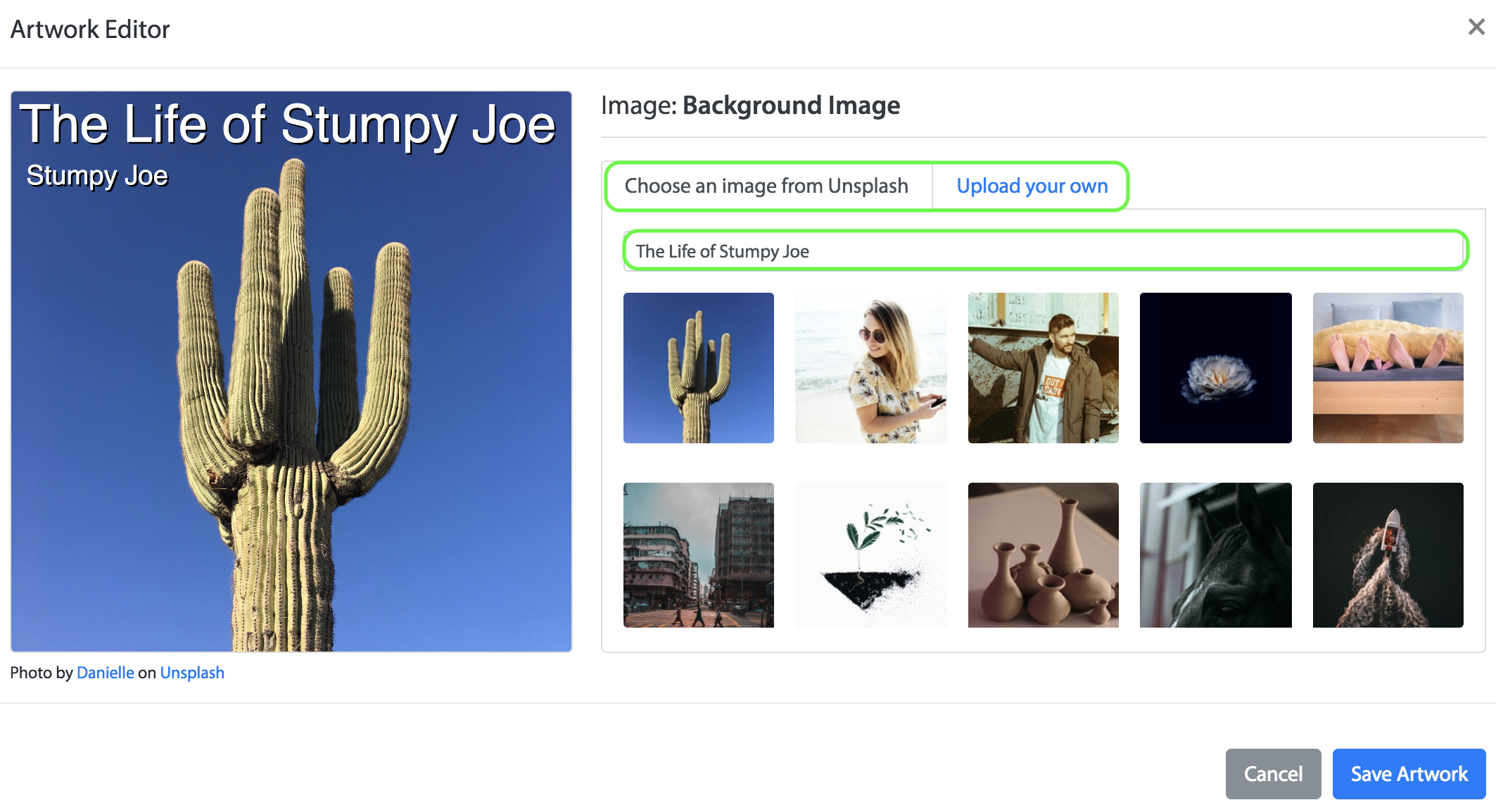 Click on your Release Title ("The Life of Stumpy Joe") and your Artist Name (e.g. Stumpy Joe) to edit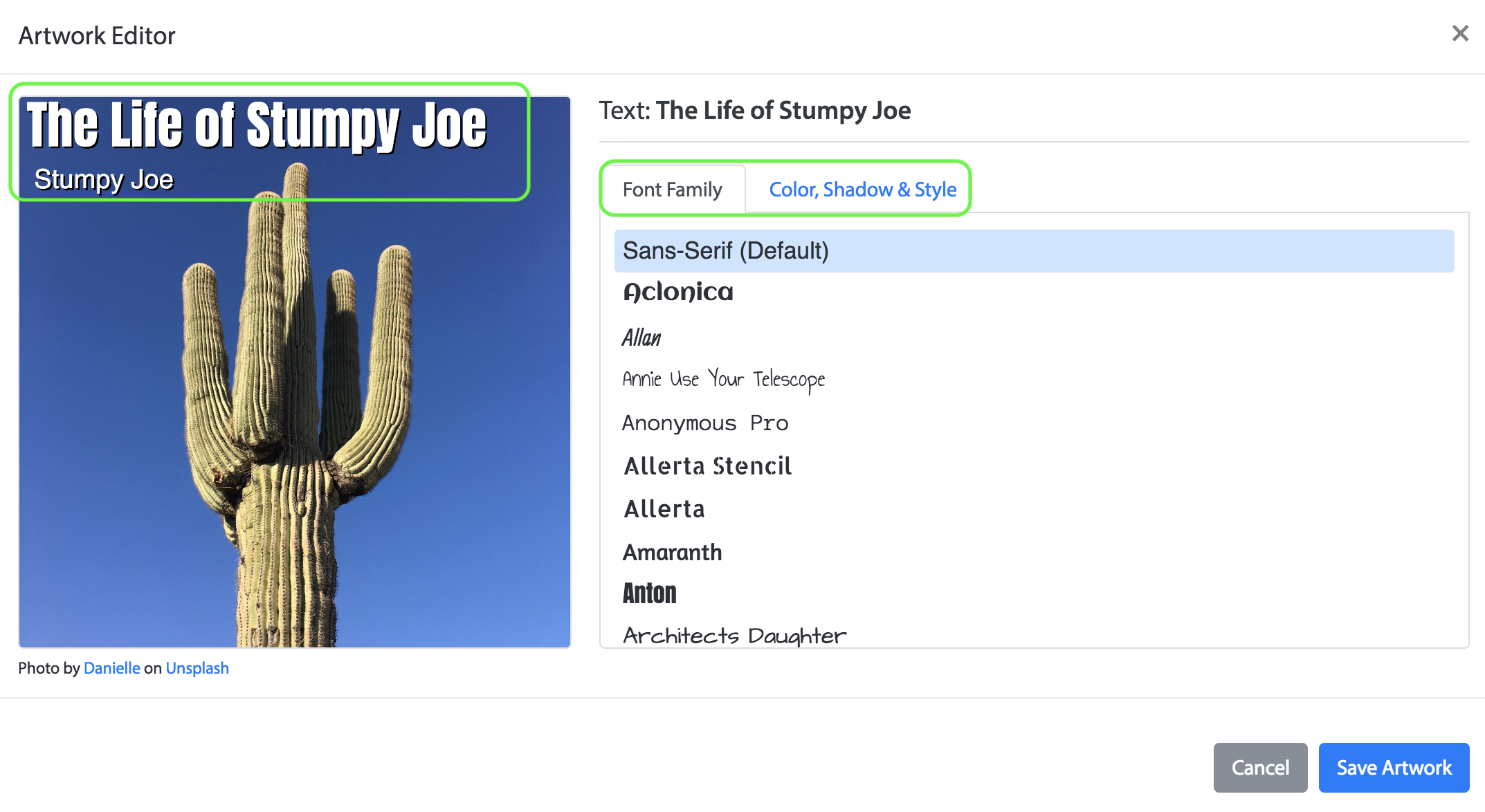 From here you can:
Choose Font Size & Color
Edit Shadow Distance & Color
Toggle between Bold, Italic, Uppercase, and lowercase
Click Save Artwork when you are done
Click Save & Continue when you are done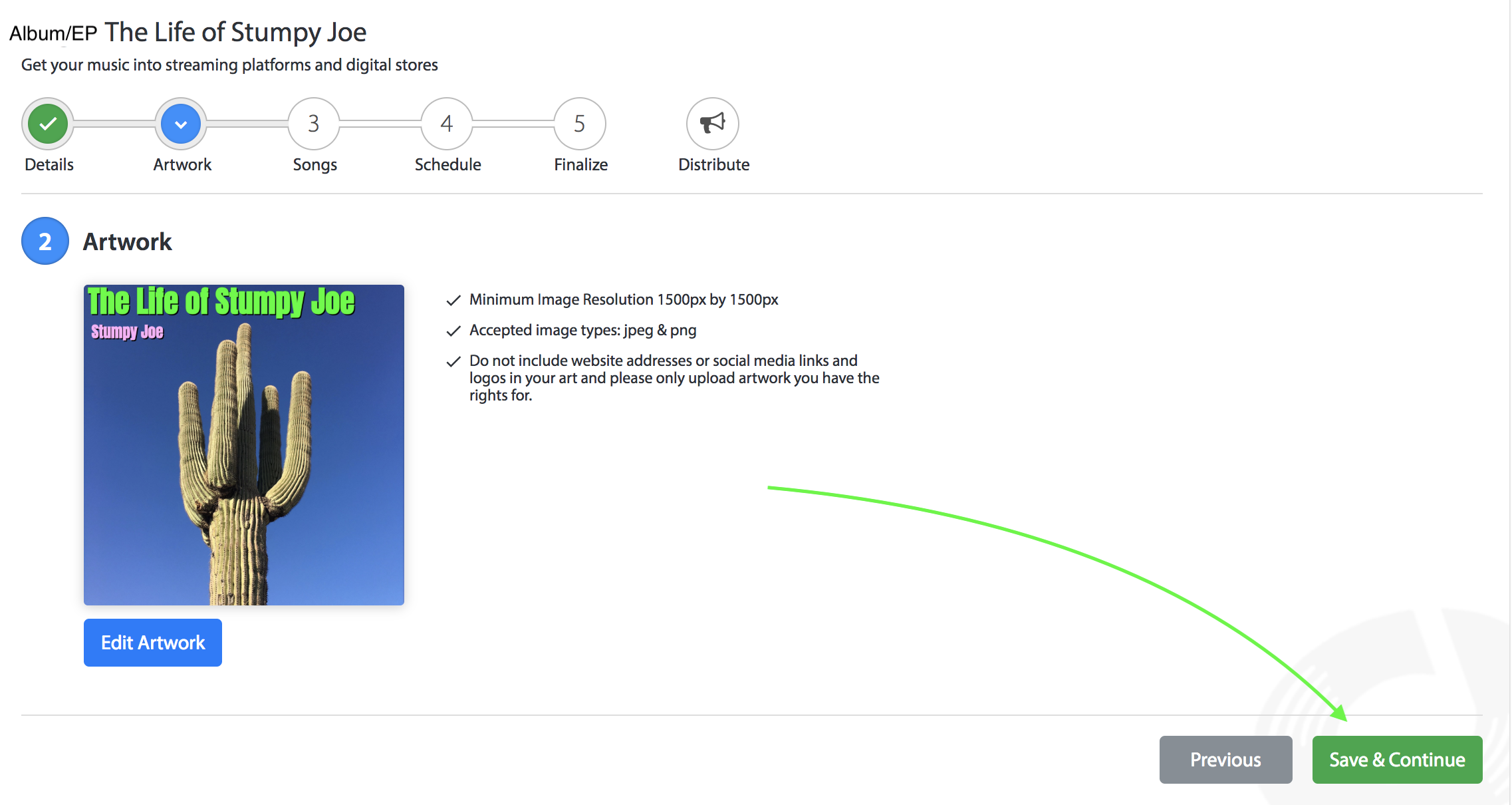 More tutorials on Artwork Editor >
-----------------------------
3) COMPLETING SONG DETAILS:
Click on Empty Spot - Click to Add Song to upload and edit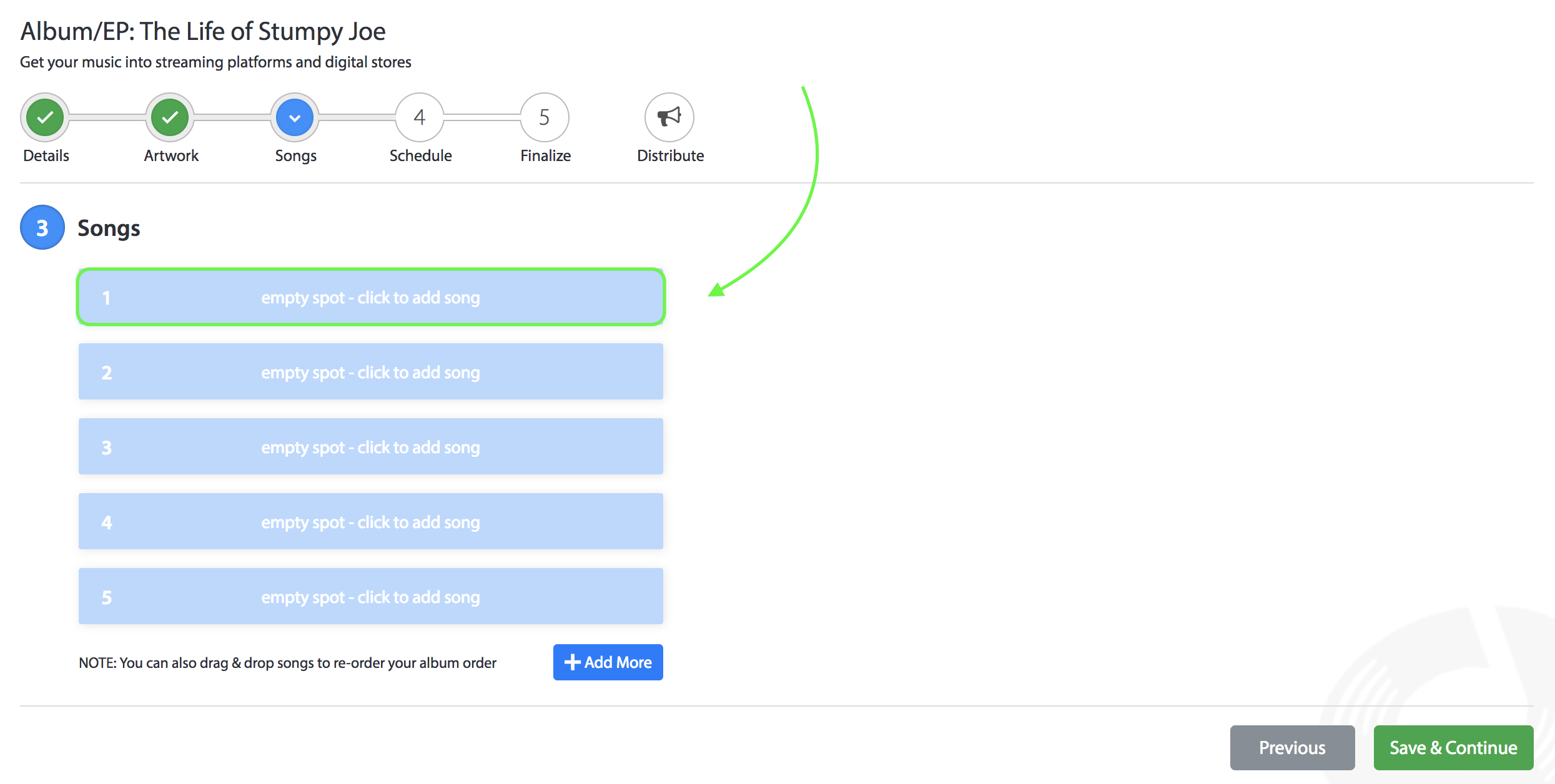 Your catalog will open up.
Click Select on the song you want to distribute
Click Done when you are finished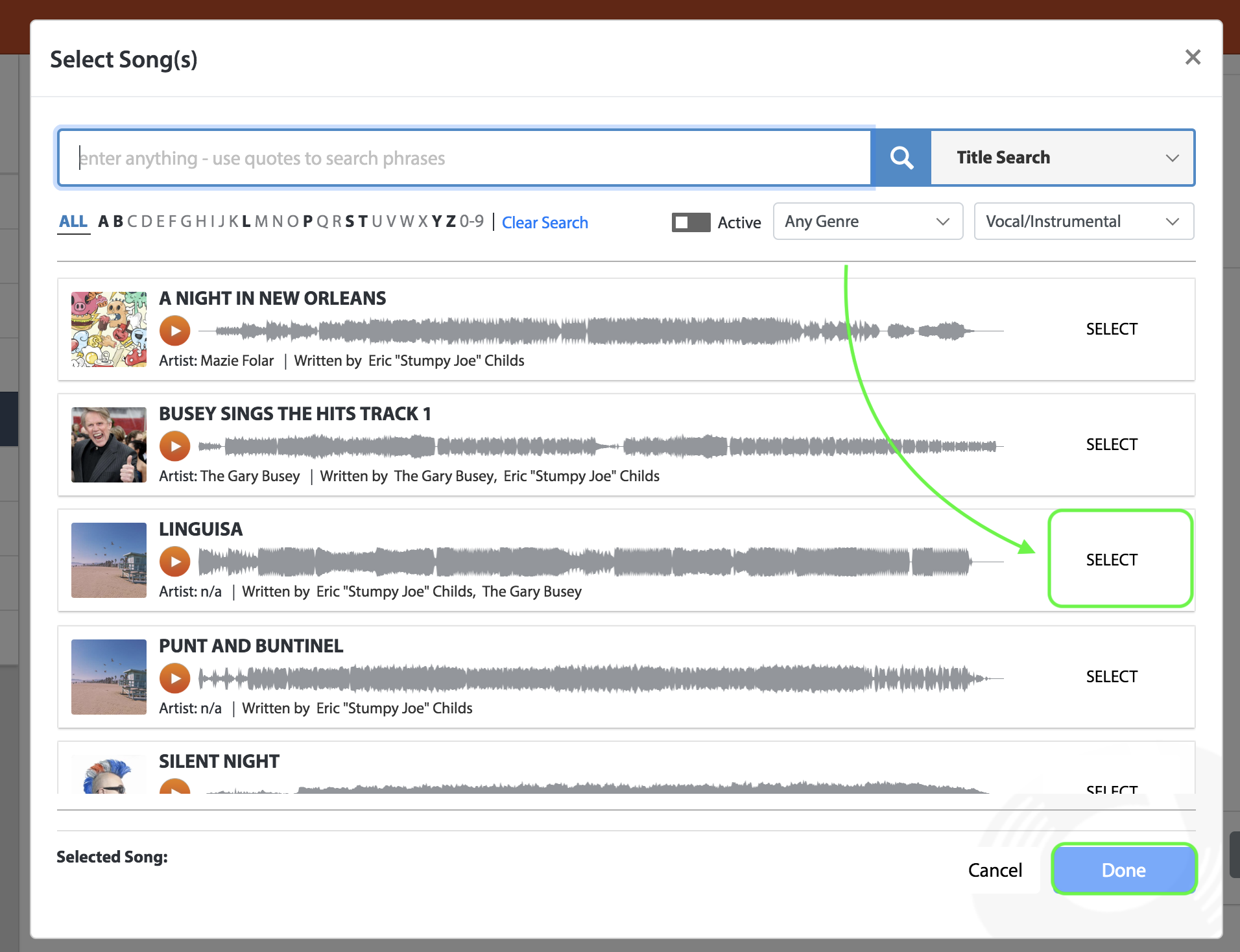 This will bring up the Song Editor window.
From here you can:
Add any contributing or featuring artists
Select Genre
Click Drag File here to upload and select your song (if you select from My Songs the audio will already be loaded)
Mark if your track is explicit
Mark if your track is a cover
Enter previously acquired ISRC's (if you don't have one we will assign you one)
Enter Copyright Holders (C Line) and Record Label/Master Owners (P Line)
Click Save Song when you are done
Repeat process with rest of the songs on your Album/EP
Click Save & Continue when you are done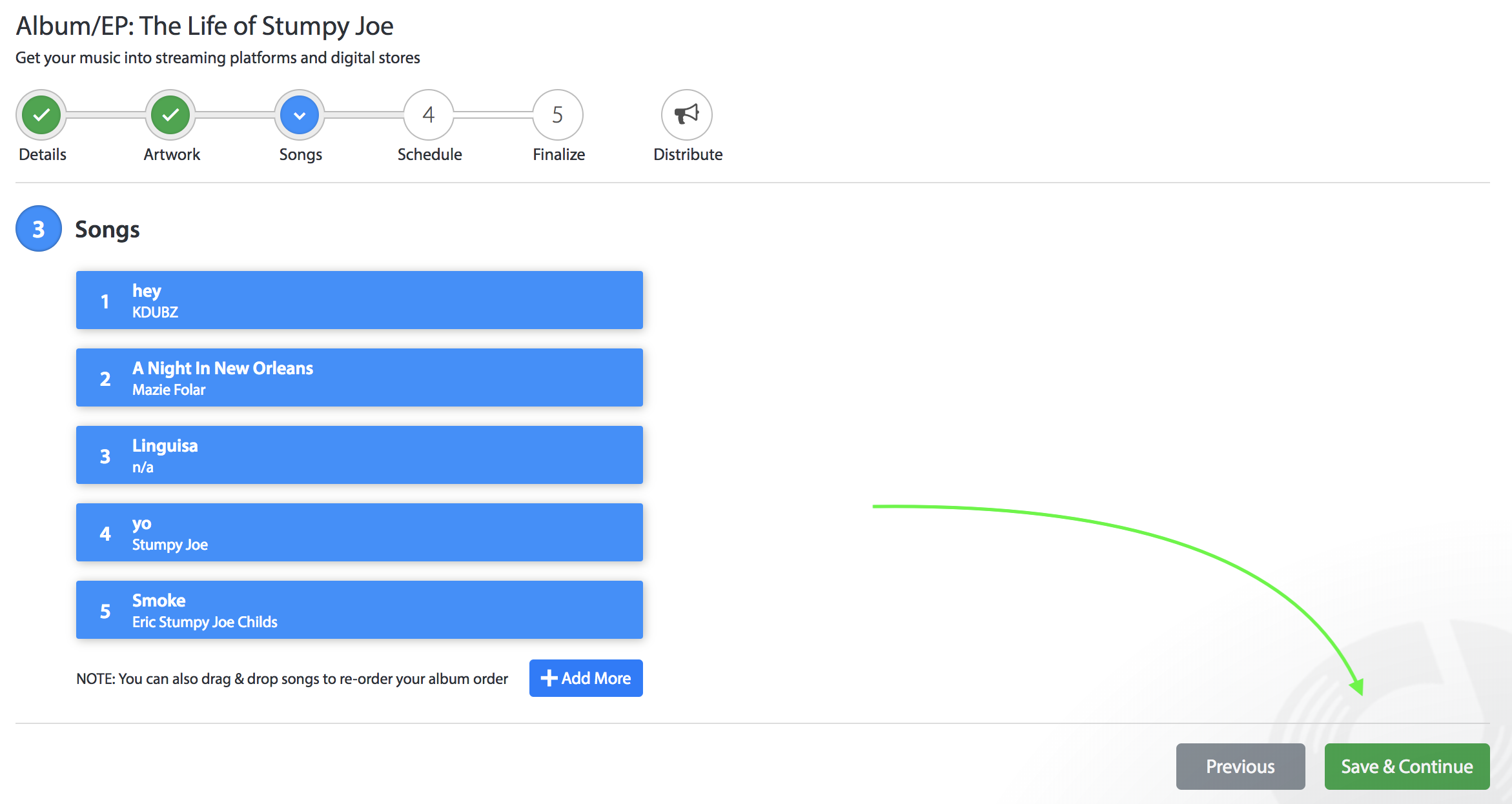 -----------------------------
4) ORGANIZING YOUR SCHEDULE:
Click the hamburger icon or field below Release Date of the Album/EP: to schedule your release
A calendar will drop down from which you can select your release date
Click Save & Continue
If your single has been released previously:
Switch the toggle to ON (BLUE)
Enter original release date
Enter UPC/EAN Code
Click Save & Continue when you are done
NOTE: Standard delivery time is 14 days from when we receive your release. We deliver releases as scheduled but cannot always guarantee exact dates as each streaming platform's release policies may differ.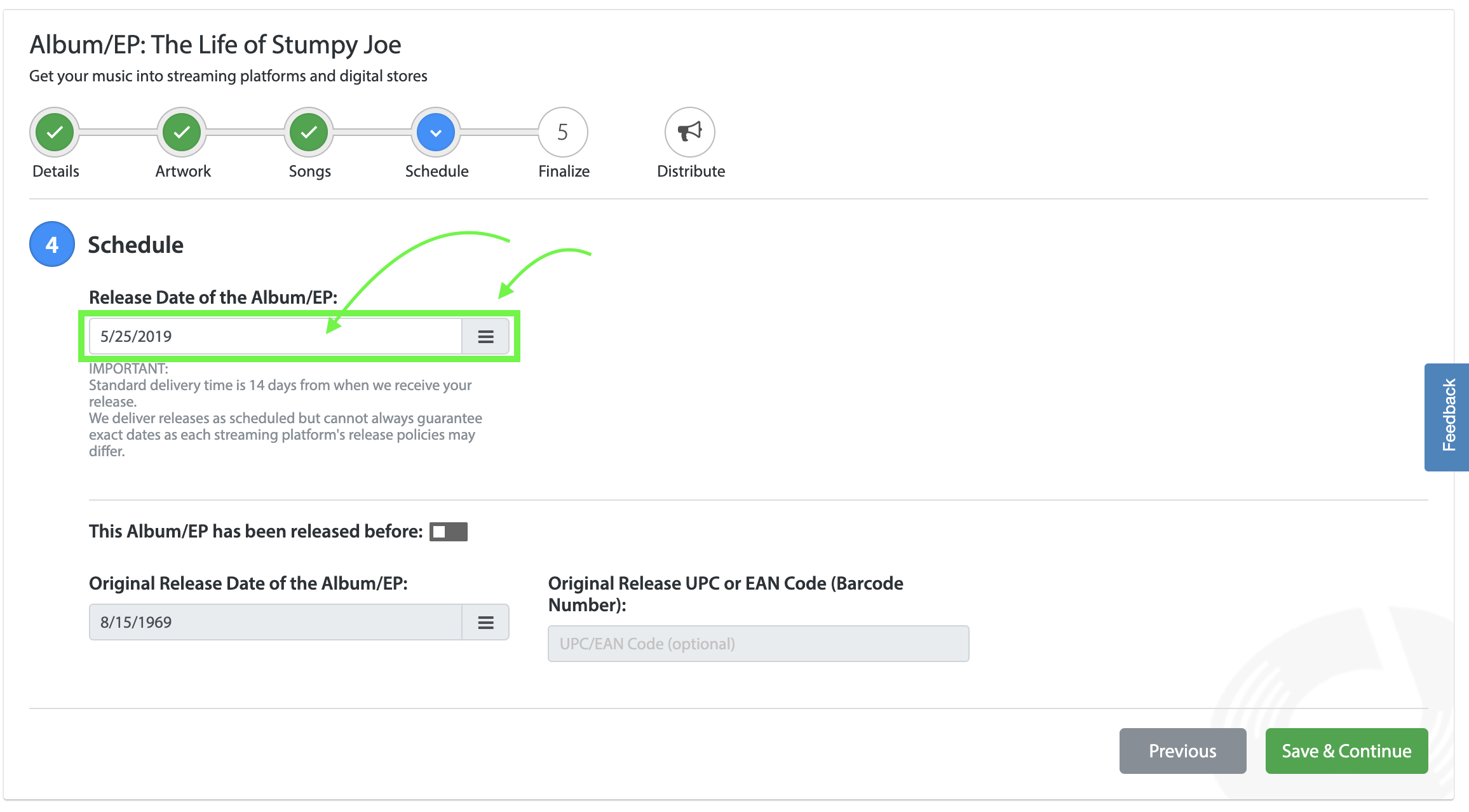 -----------------------------
You're almost there!
5) FINALIZING YOUR RELEASE DETAILS:
Check all the boxes or select the individual stores you wish to have your music released to for distribution
Select your Download Pricing
Select your Territory
Select whether you want your music to automatically be distributed to any stores added in the future
Click Save & Continue when you are done
Note: Click Learn More to view all streaming platforms we distribute to.
Note: You can return to any previous windows by clicking any of the steps in the progress bar e.g. Artwork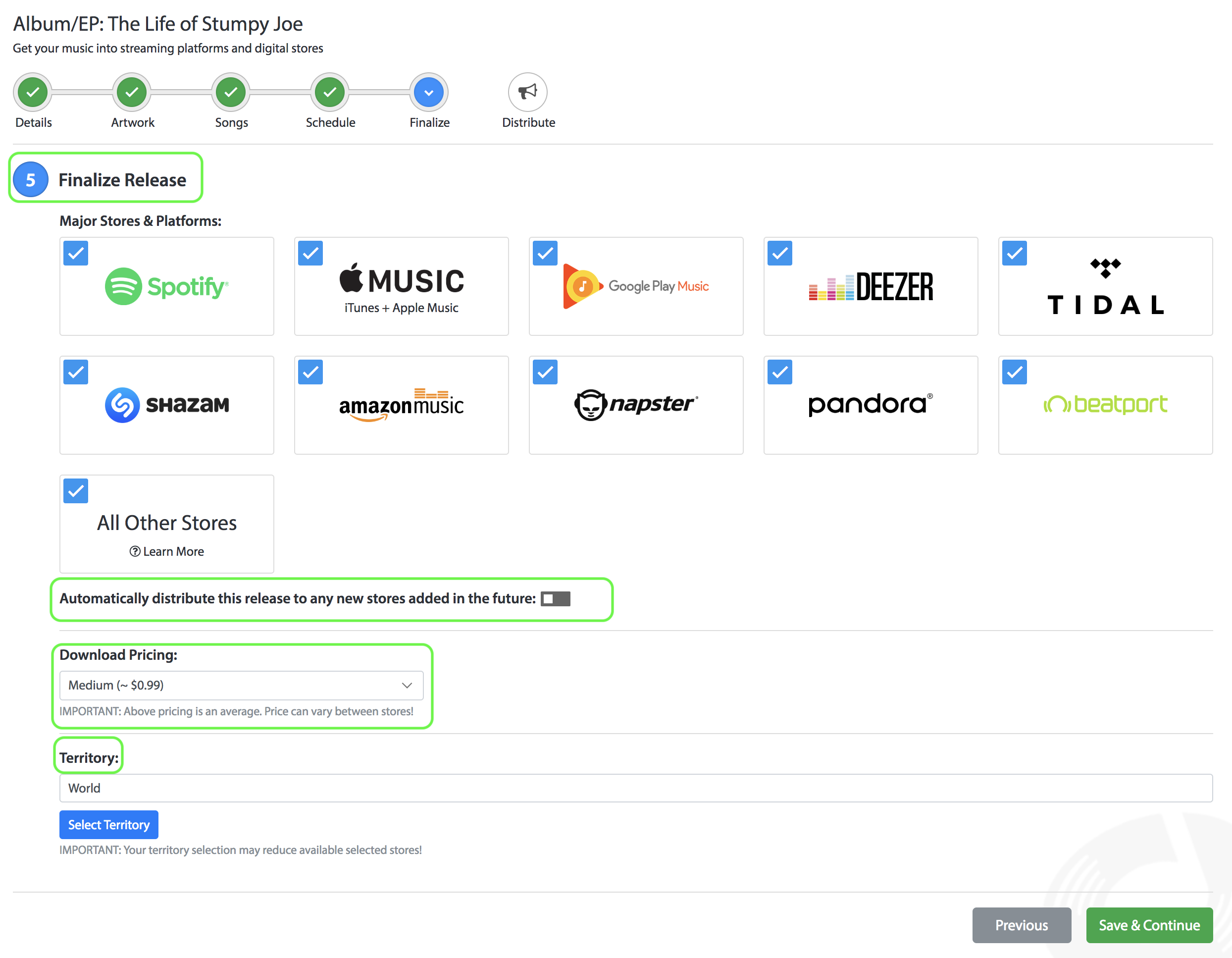 -----------------------------
Final step!
6) DISTRIBUTE!
Select if your music has been distributed before via a separate service
Check to see if your plan covers your release
Click Distribute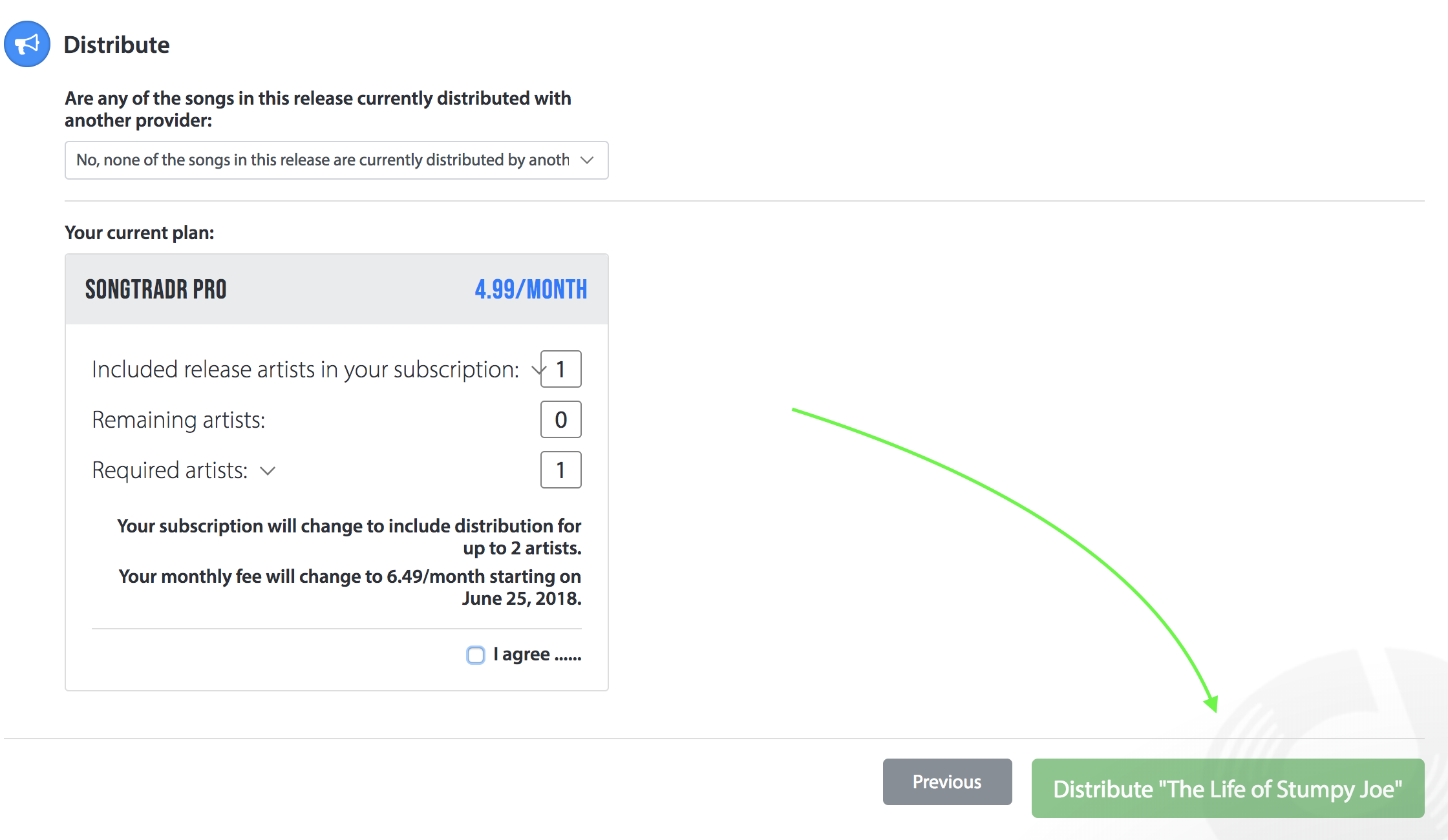 Congratulations, you have just distributed your release!