If you wish to distribute your music, Songtradr offers distribution to all major streaming platforms including Spotify, Apple Music, Deezer and more. Although "single" denotes one element, a "single release" can comprise up to 3 tracks and generally released separately with an album.
What is the maximum and minimum track length required for distribution?
Songs less than 30 seconds will not receive payouts from streaming platforms.
The average track length on an album cannot be less than one minute.
The maximum track length on a release via Songtradr is around 12 minutes.
Can I upload a single before my album, and then put on my album later?
Yep! Just upload the single first, and then upload the entire album (including the single) as a separate release. Once the full release is in stores, you can choose to leave the single, or remove it and only have the album version available. Make sure not to upload a duplicate version of the single. The Songtradr Master ID has to match on both the single version and the album version.
Note: If you use your existing ISRCs (you need to have the Musician Plus or Label plan to do so), the exact same audio file as in your original upload, same metadata (track titles, artist name, etc.) this might help retain play counts/playlists for the single in some stores. Nothing that we (or stores) can guarantee, however.
Press play below to watch a quick YouTube tutorial about setting up a Single prior to completing in your dashboard.
______________________
HERE'S HOW:
Login to your account
Click

 

Distribution

 

on the left navigation bar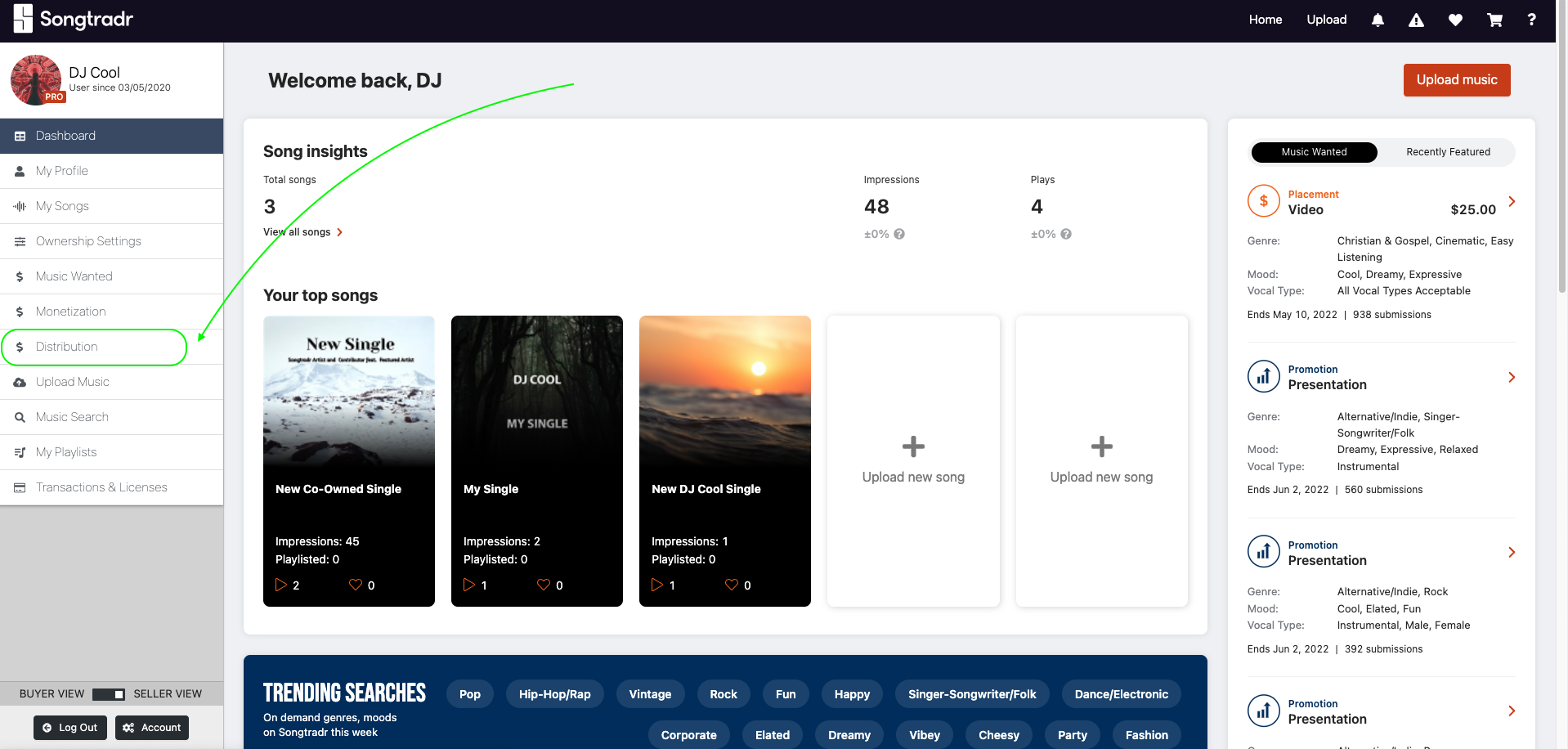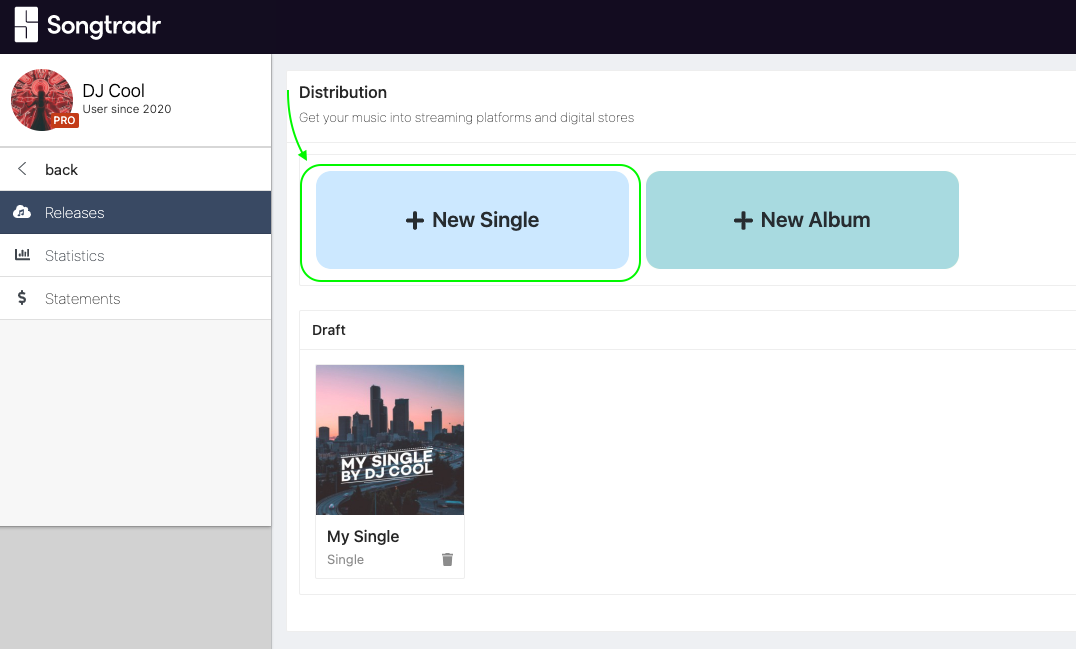 Type in the

 

Release Title

 

of your Single
Click

 

Create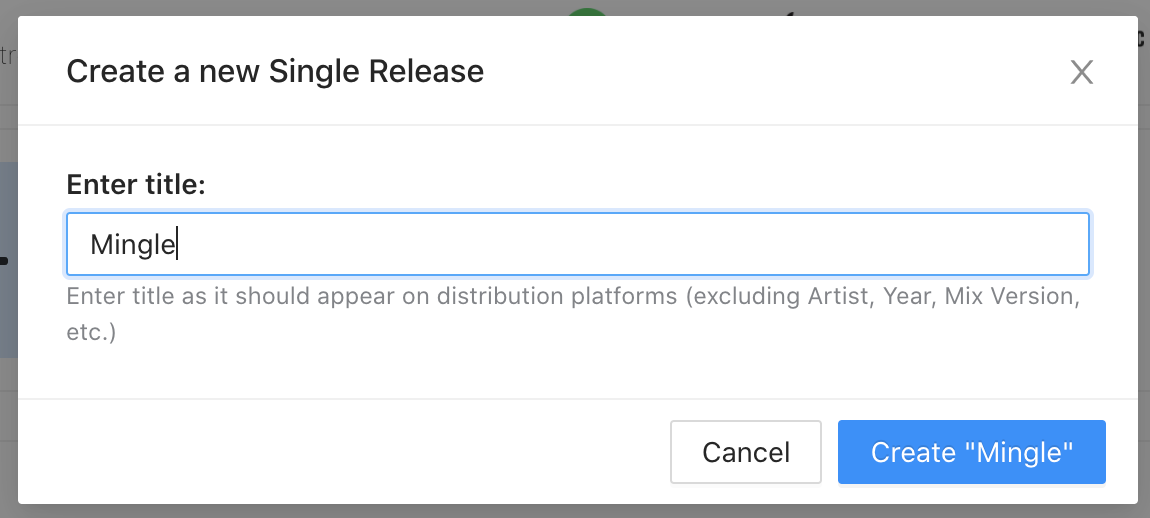 1) ENTER DETAILS
Select

 

Release Title Language.
Select

 

Country of Origin.
If applicable, enter

 

Version

 

e.g. Remastered.

Enter

 

Record Label (this will appear as your release's P-Line).
Enter C-Line.
If applicable, enter

 

Catalog Number.
Click

 

on the Main Artist field

 

to enter your artist information or select a previously inputted artist from the pop-up window.
If there are no prior release artists, click

 

Create New Release Artist.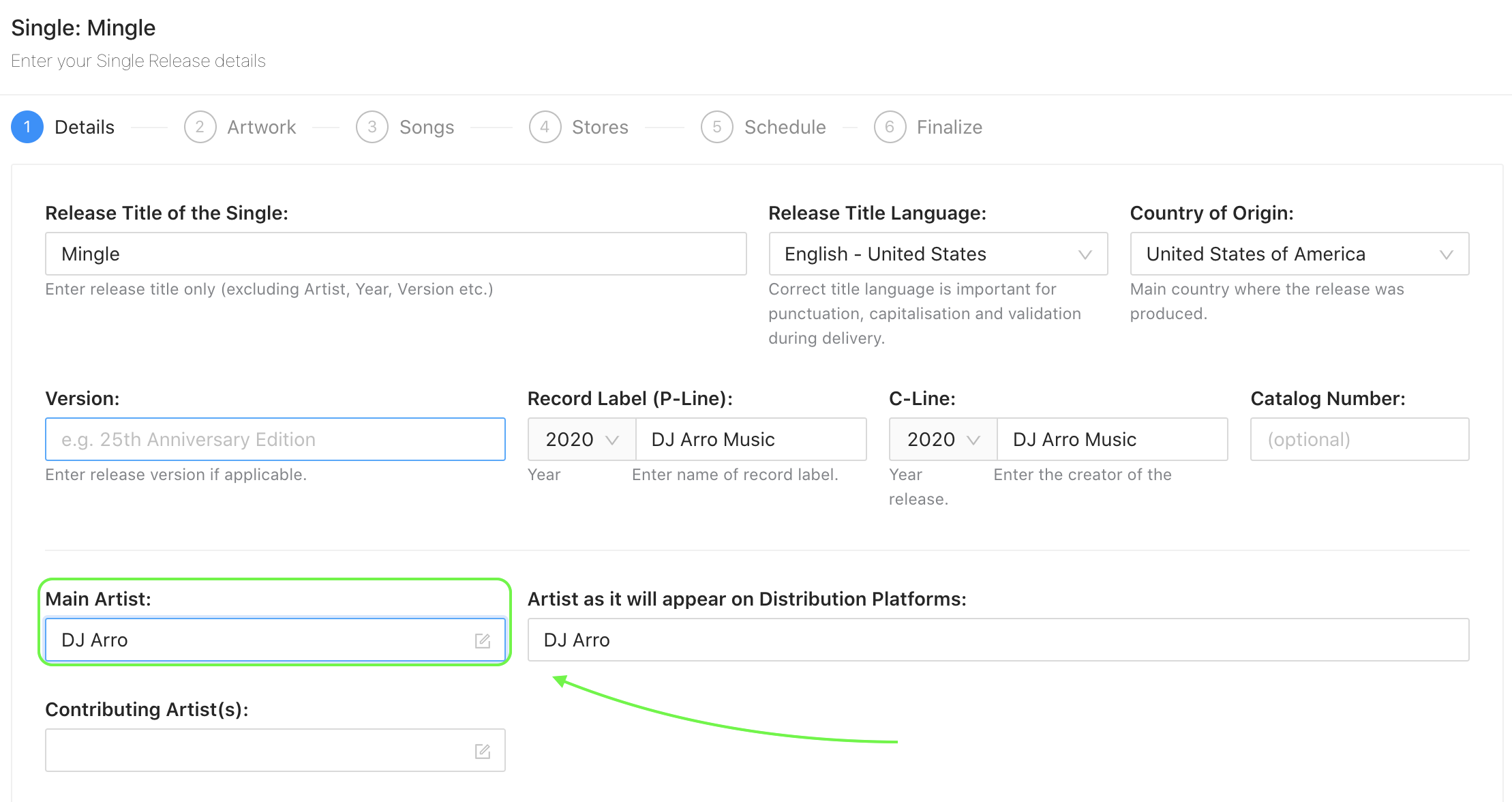 -----------------------------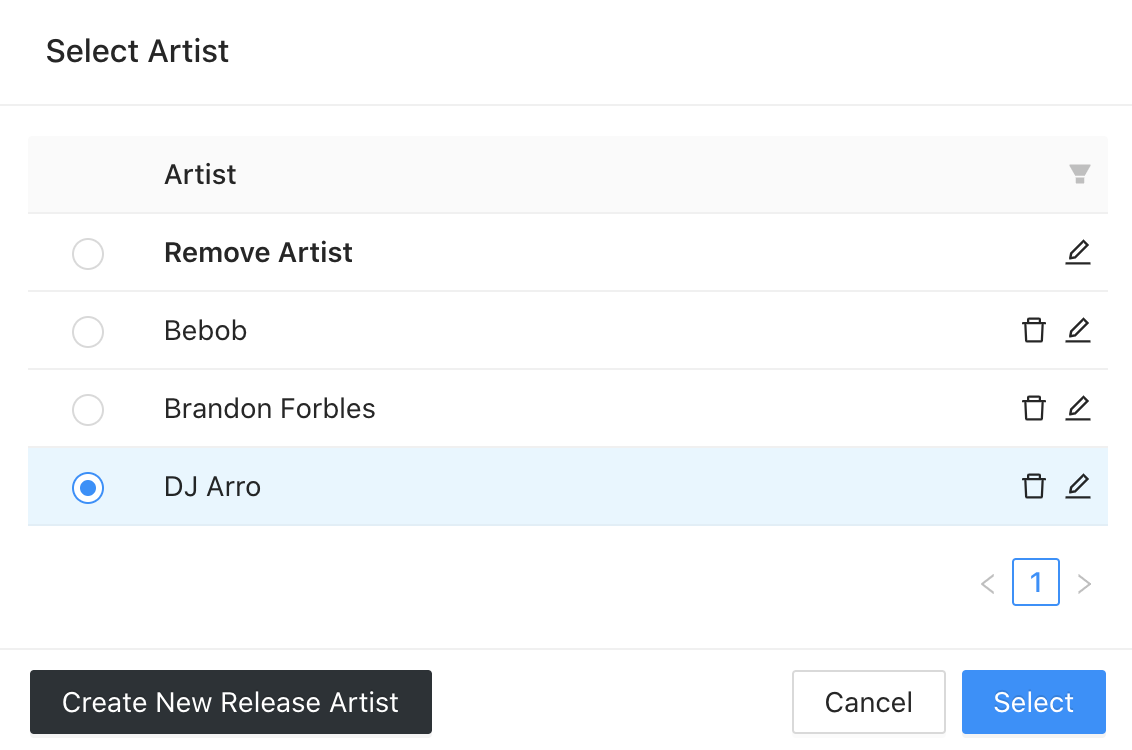 -----------------------------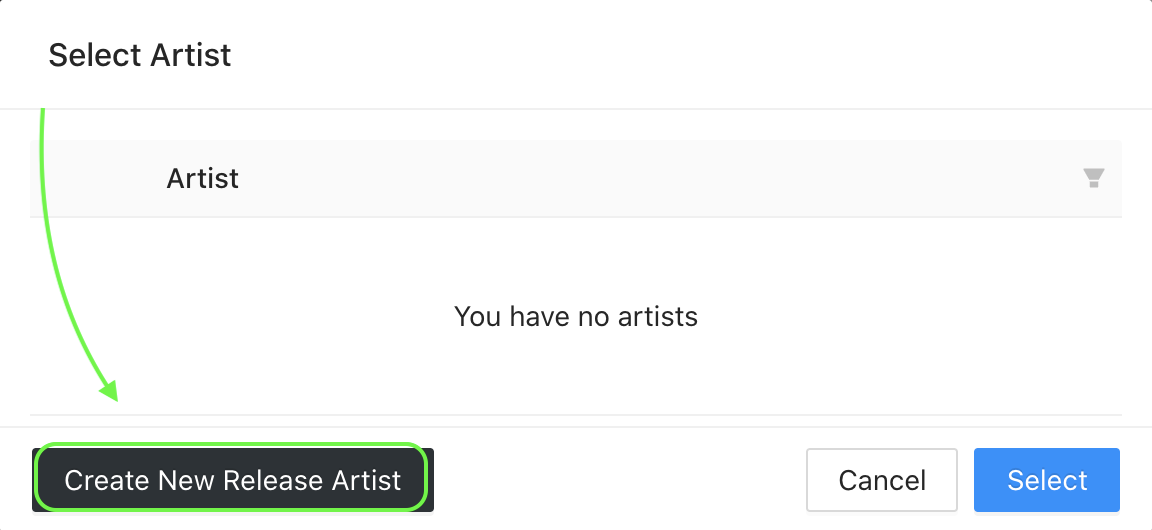 This will bring up a new dialog box where you can:
Enter your

 

Band Name (or Artist Name) OR your

 

Last

 

and

 

First

 

name, if that is your artist name
Enter your Spotify URI to ensure the release will go to your correct profile on Spotify
Enter your Apple Music profile link to ensure the release will go to your correct profile on Apple Music
(Click

 

here

 

on how to find and add your profile links)
Click

 

Save Artist

 

when you are done
Note: Please leave this section blank if you do not have existing profiles. Also, do not enter a URI/link of an artist that is not yourself.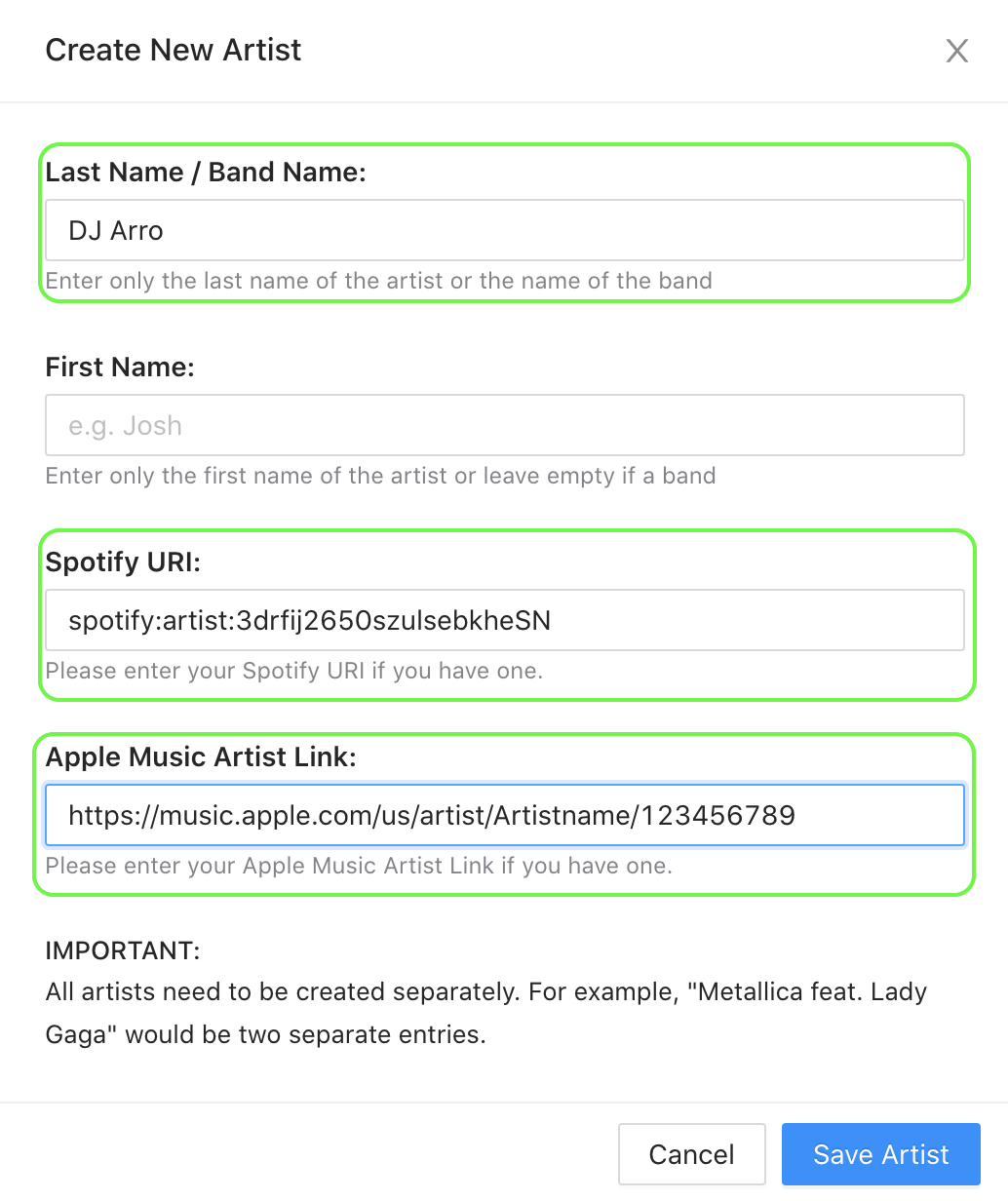 Repeat steps for

 

Contributing Artist(s)

 

or

 

Featured Artist(s) (if applicable) 
Click

 

Save & Continue

 

when you are done
Once the artist is saved, you will be able to add them to your release.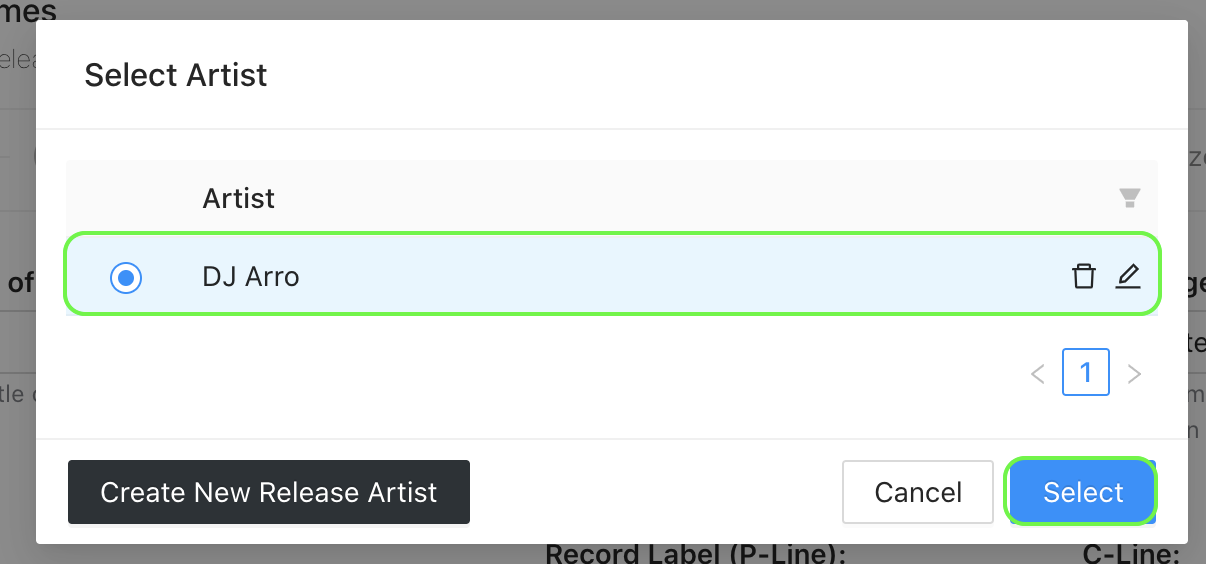 Note: You are able to delete and edit distribution artists here. This can be used to edit artist names, delete duplicates and add Spotify URI's and Apple IDs. You will not be able to delete artists that are a part of your subscription plan or have been included in a previous release.
To edit your artists:
Click into the release and click on the Main Artist field to open up the Artist window.
Click the pencil icon to edit an artist's information.
Click the trash icon to delete an artist.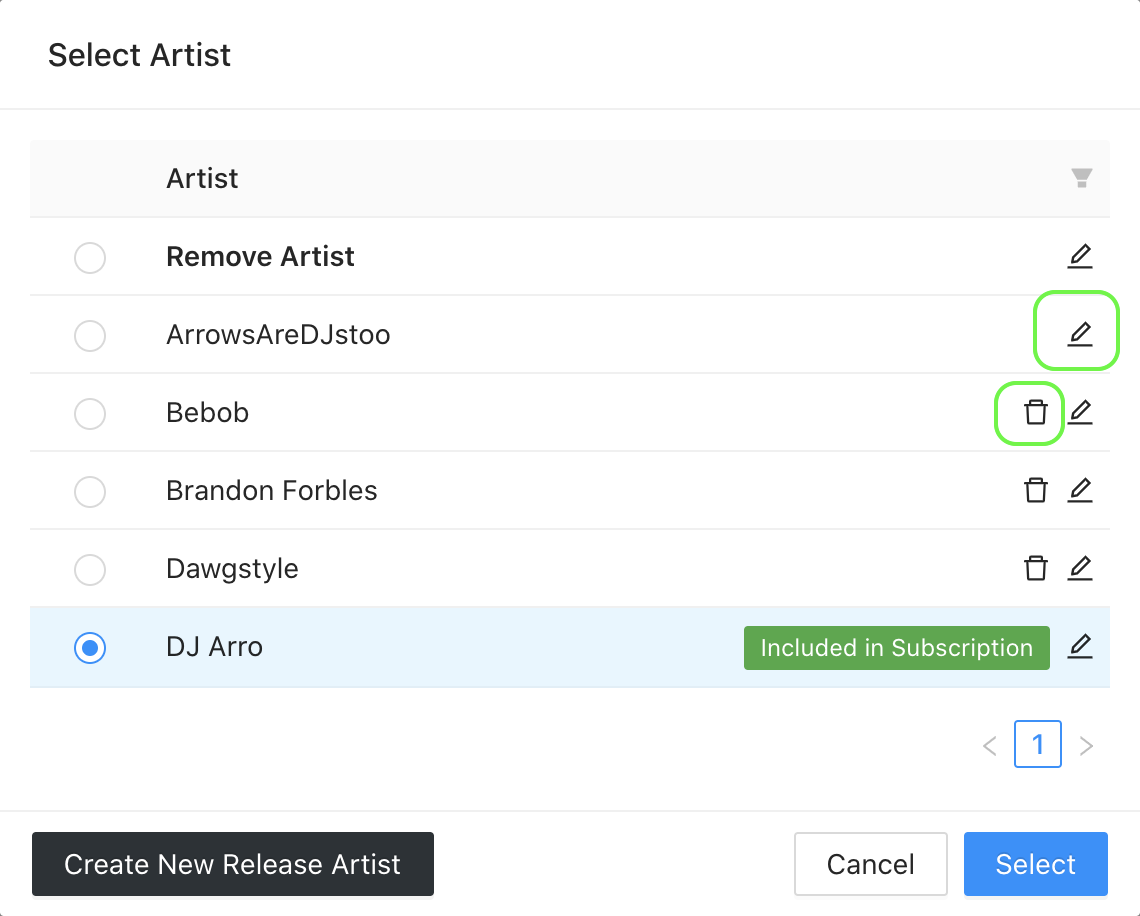 2) CHOOSE YOUR ARTWORK
Click

 

Edit Artwork

 

to open up the editor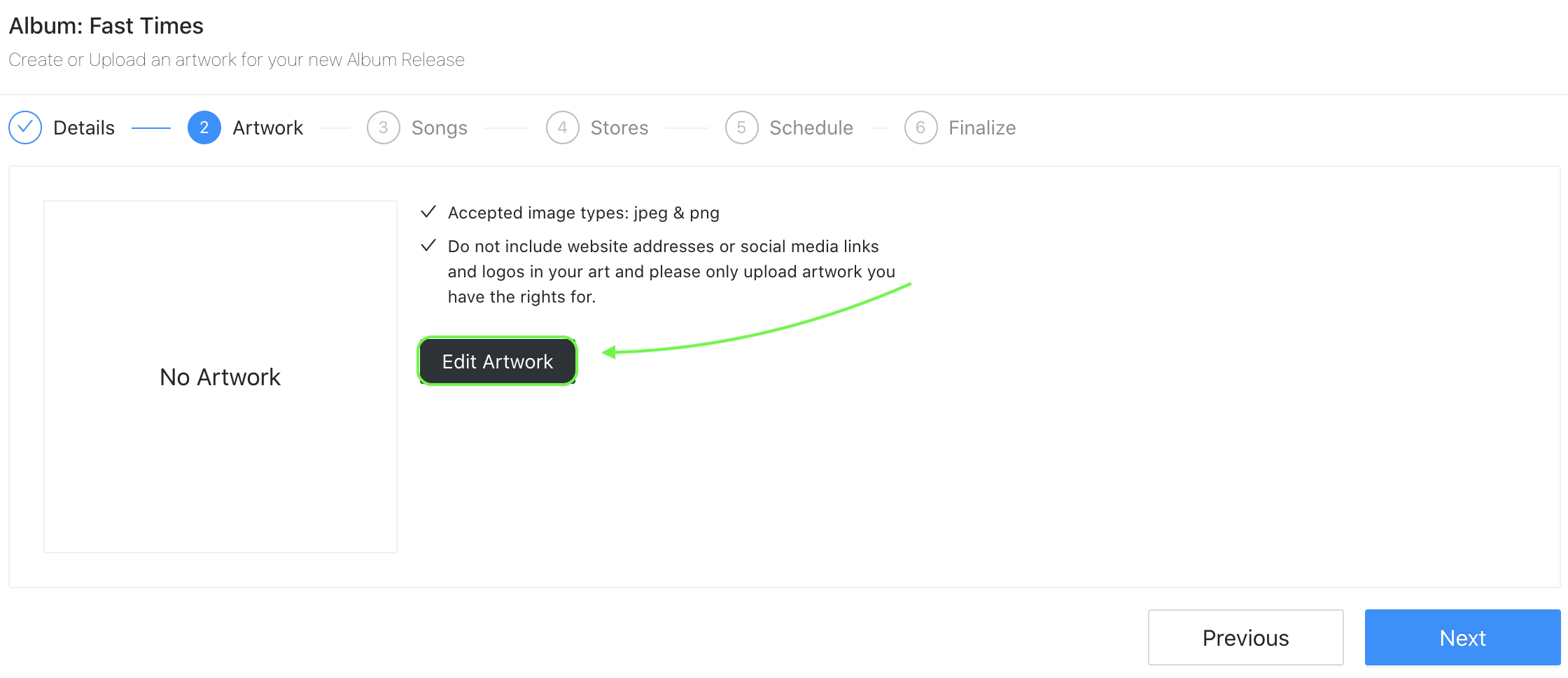 You have two options:
FREE STOCK IMAGE - Use the search bar to populate images from Unsplash where you can choose from real photos from a community of photographers. If you choose to use Unsplash:

Type any query into the Search bar to bring up relevant images (e.g. sunset)
Select an image

UPLOAD ARTWORK FILE - Click

 

Upload your own

 

to choose an image from your device. If you have your own image, please make sure your image is formatted in square dimensions:

Minimum size: 3000 x 3000 pixels
Maximum size: 6000 x 6000 pixels
Acceptable formats are

 

.png

 

or

 

.jpeg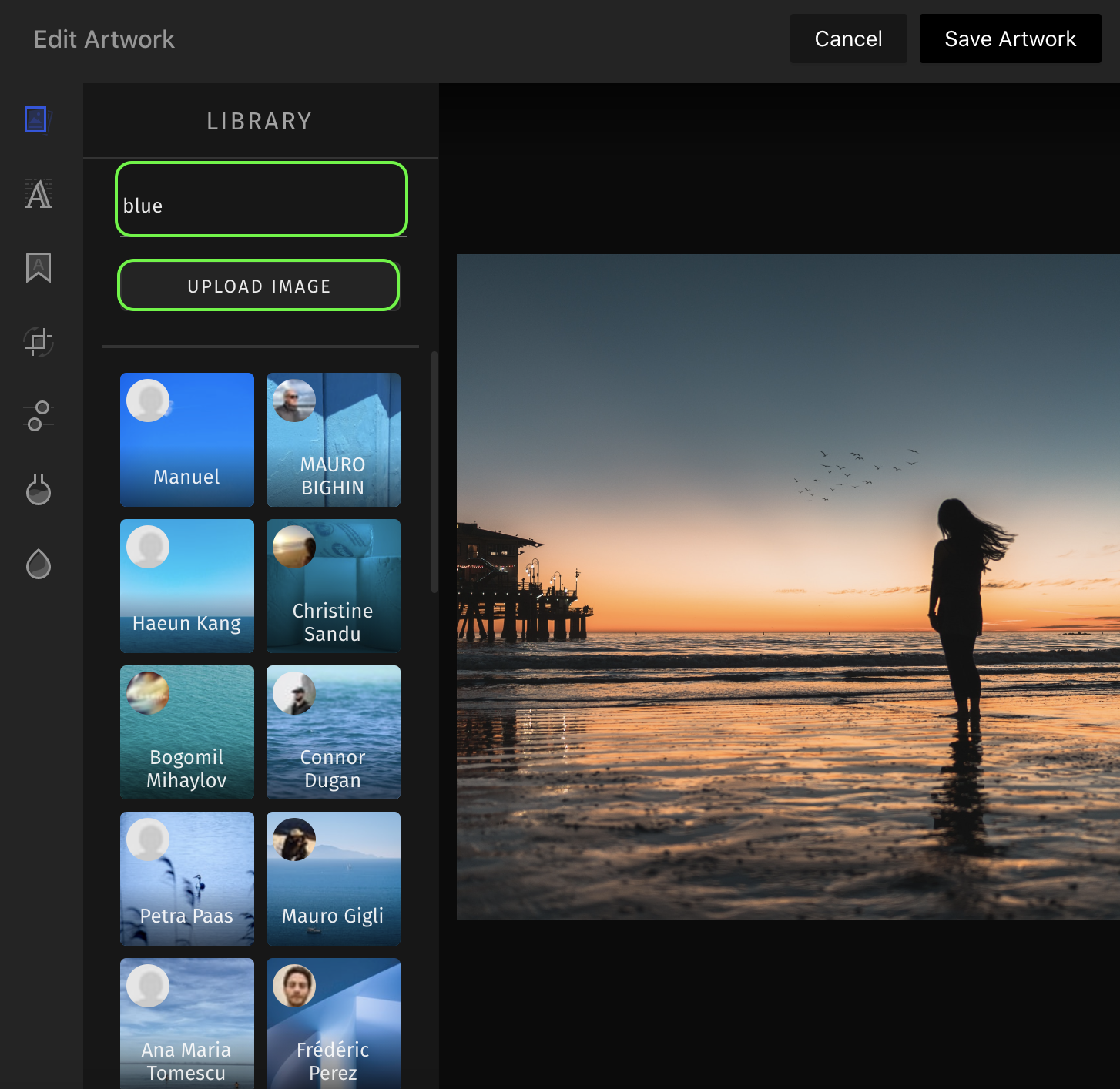 Add Text
Click New Text
Enter your Release Title
Enter your Artist Name
Select Font Size, Alignment, Font Color, Background Color, and Line Spacing if you wish
Tip: Simply click Insert Your Title and/or Insert your Artist Name in the lower lefthand corner and it will automatically populate.
Note: All artwork must contain your release title and artist name.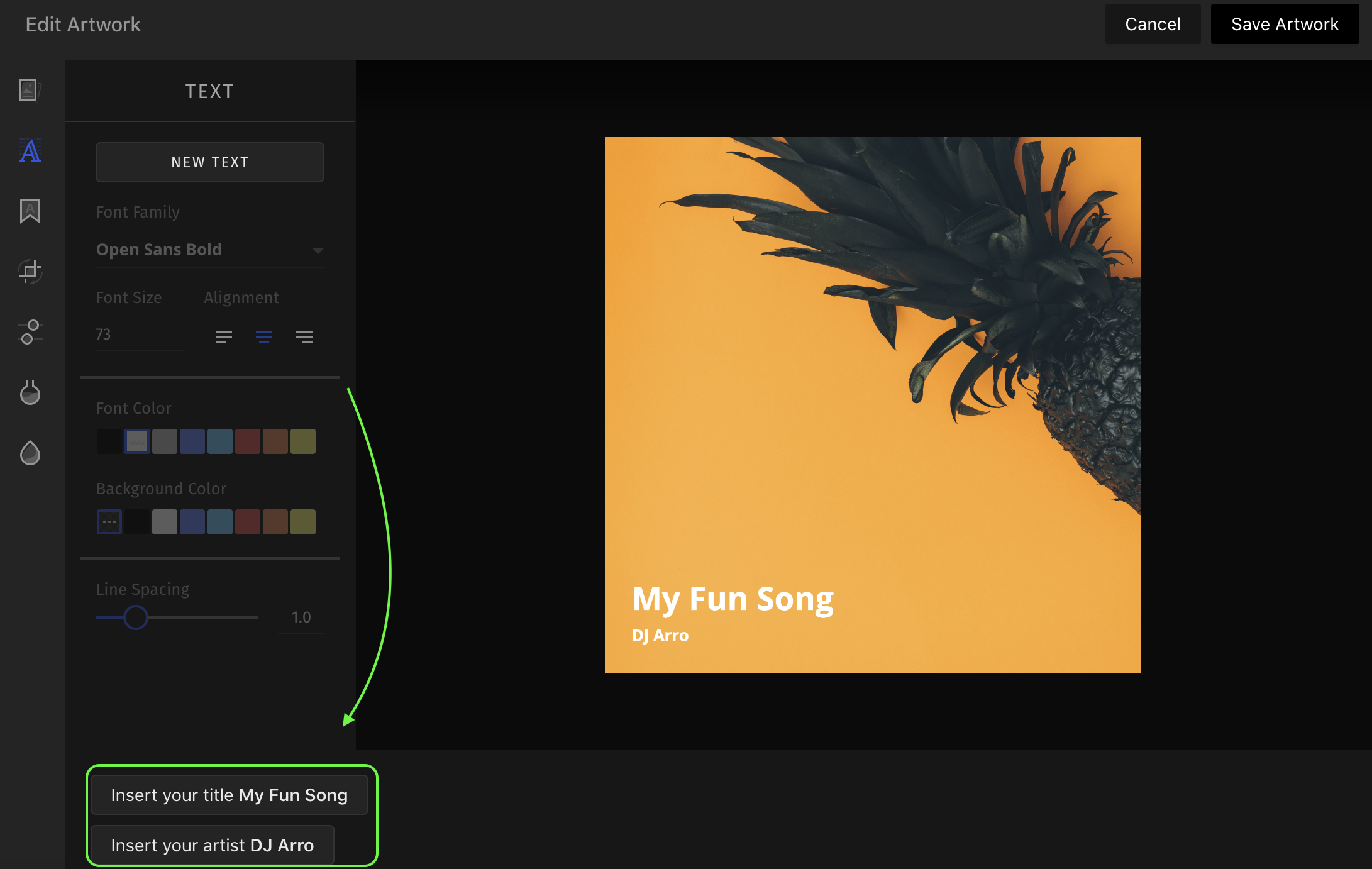 Add Text Design (optional)
Select a Text Design to add creative text designs to your artwork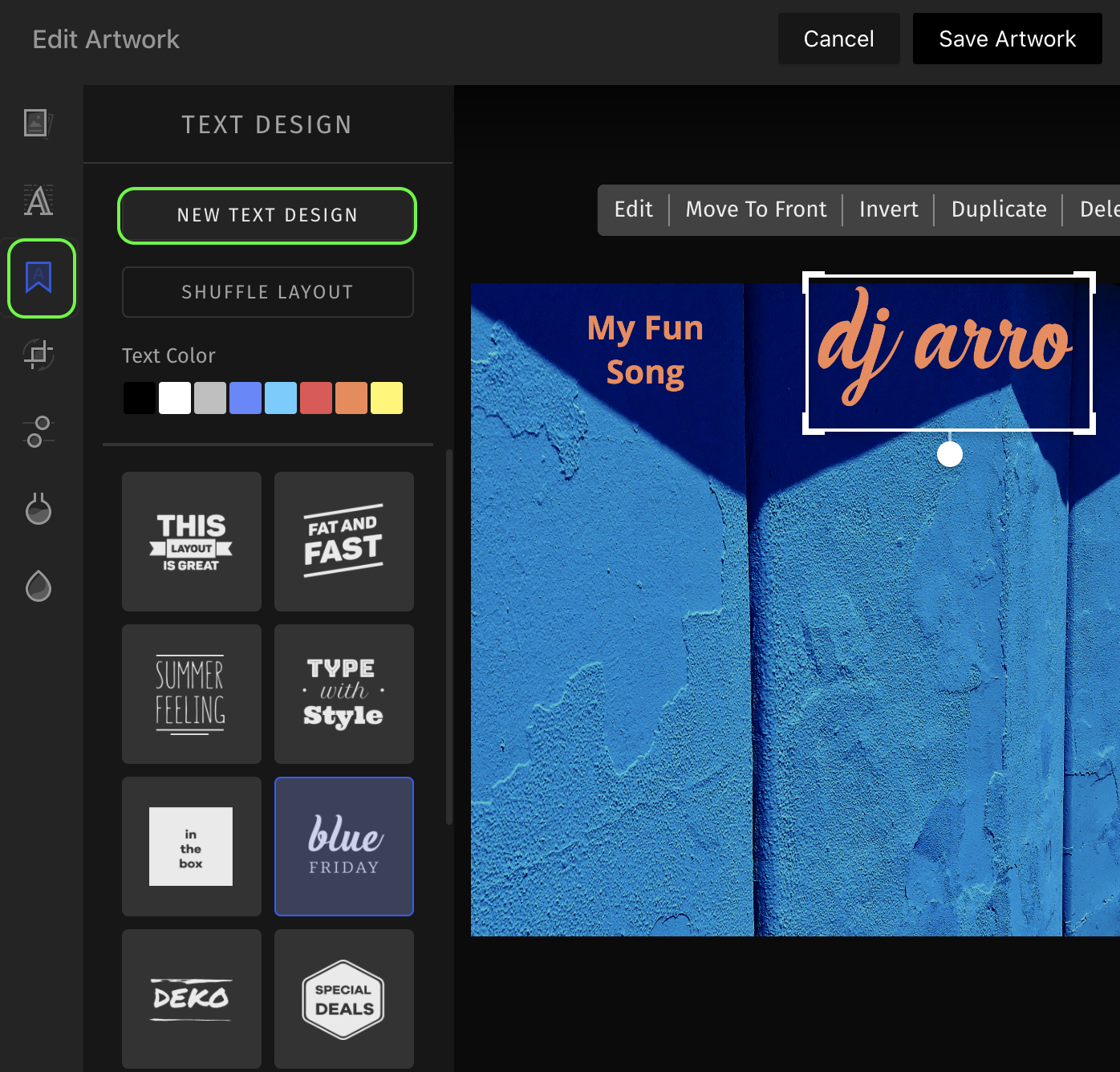 Transform (optional)
Note: All images must be square dimensions to adhere to streaming platform guidelines.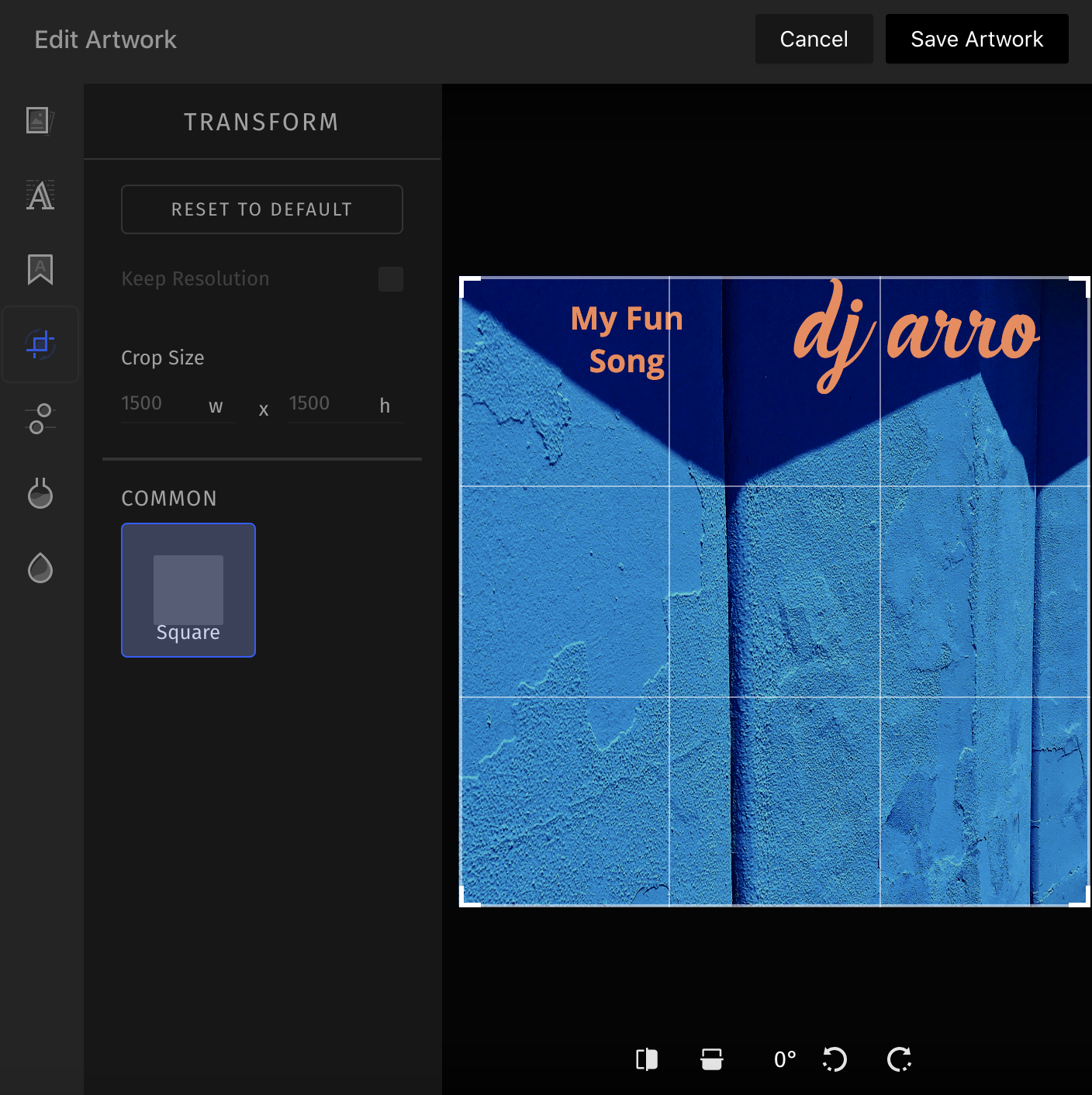 Adjust (optional)
Adjust your image's Brightness, Contrast, Saturation, etc.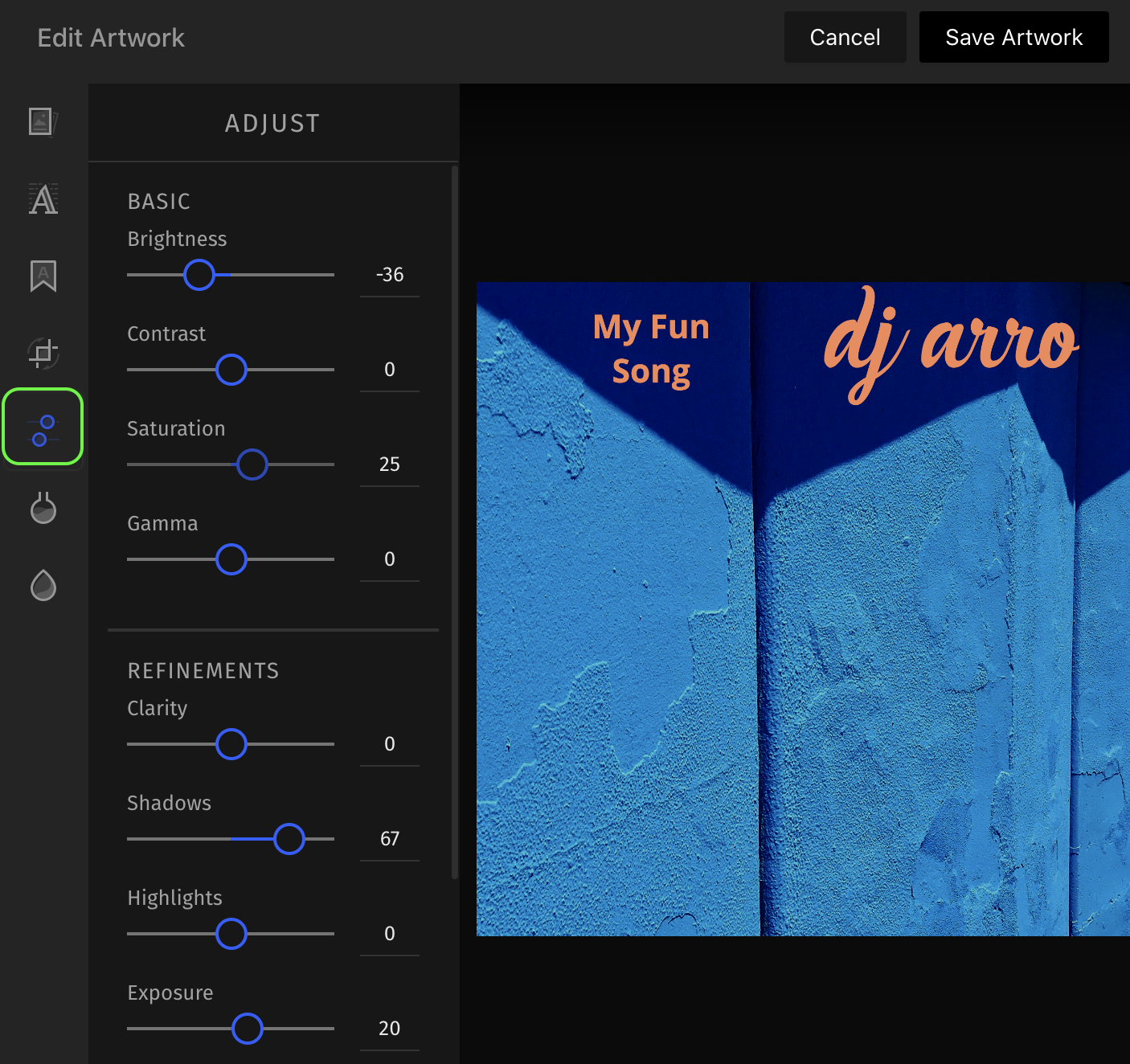 Filter (optional)
Add a filter to your artwork
Focus (optional)
Add Radial, Mirrored, Linear, or Gaussian focus to your artwork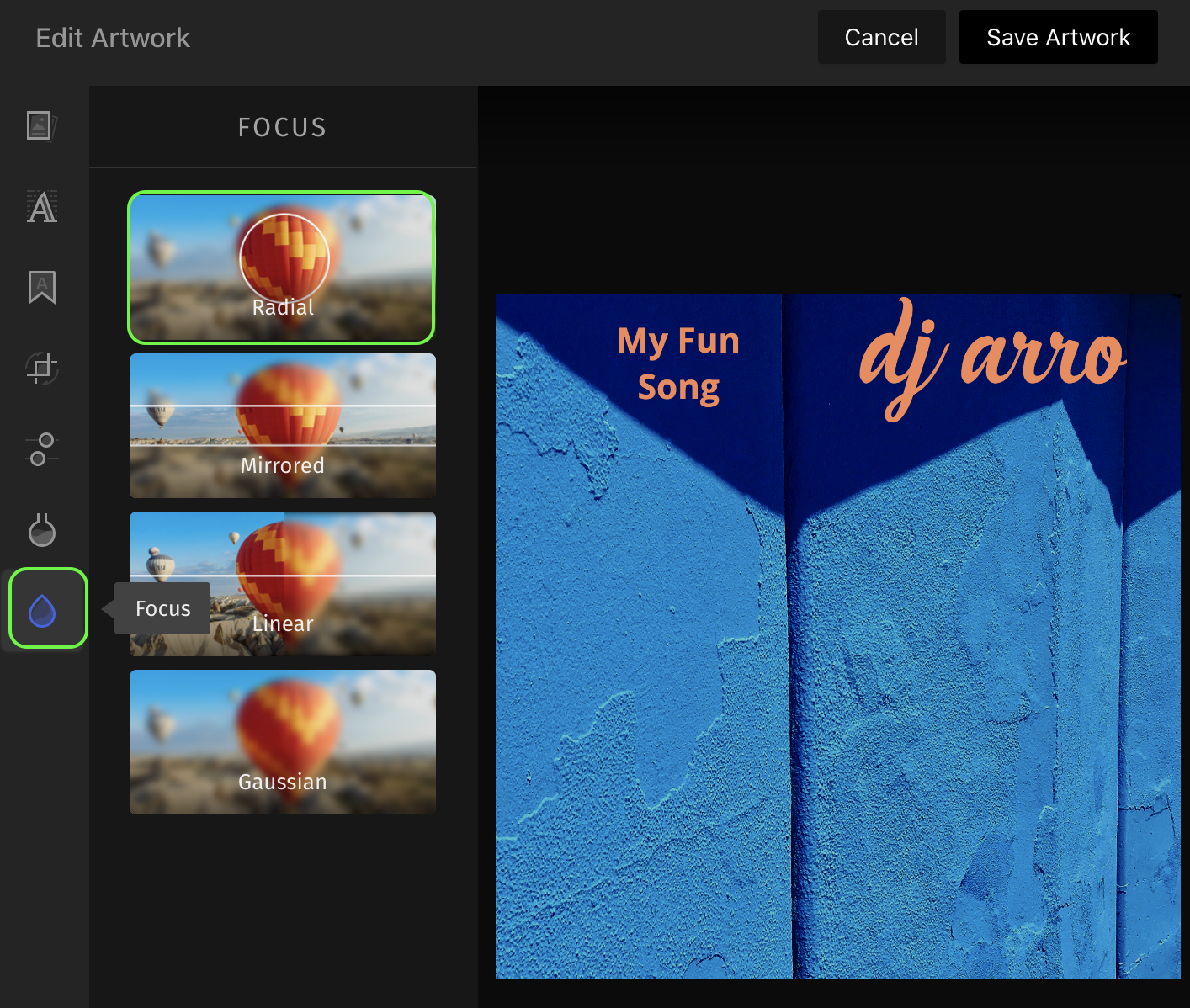 Save artwork when you are done! Click here for more tutorials on our Artwork Editor >
3) COMPLETE SONG DETAILS
Click to add a song to your release.

Your catalog will open up. Click Select on the song you want to distribute.
 -----------------------------

This will bring up the Song Editor window. From here you can:
Add a Version Title (i.e. Remix, Instrumental)
Select Song Title Language
Add any

 

contributing or featuring artists
Select

 

Genre
Select Recording Version
Enter previously acquired

 

ISRC's

 

(if you don't have one we will create one for you)
Mark if your track is

 

explicit
Mark if your track is a

 

cover
Enter

 

Composers and Record Label/Master Owners of the track
Click

 

Save and Next when you are done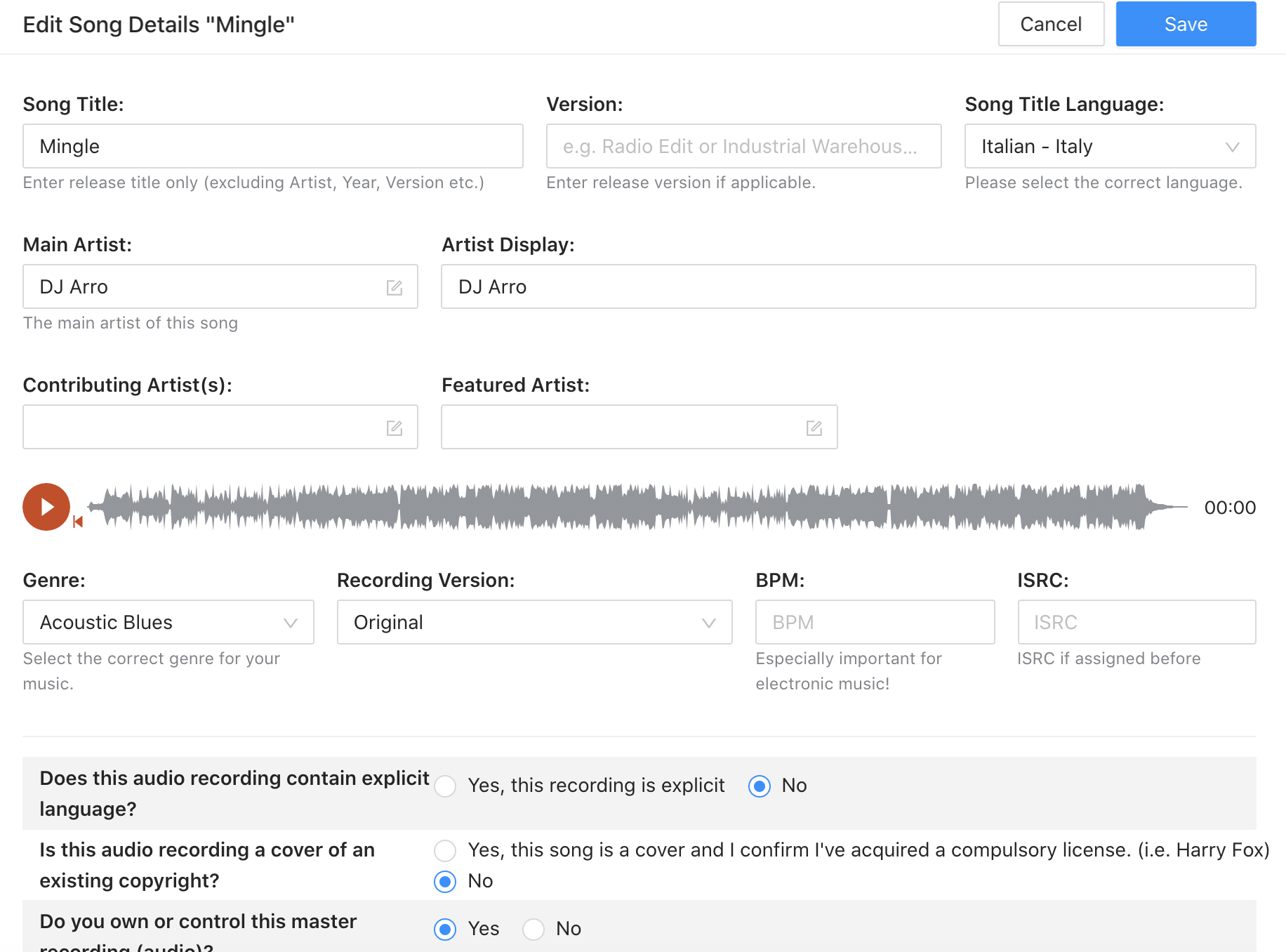 -----------------------------

 -----------------------------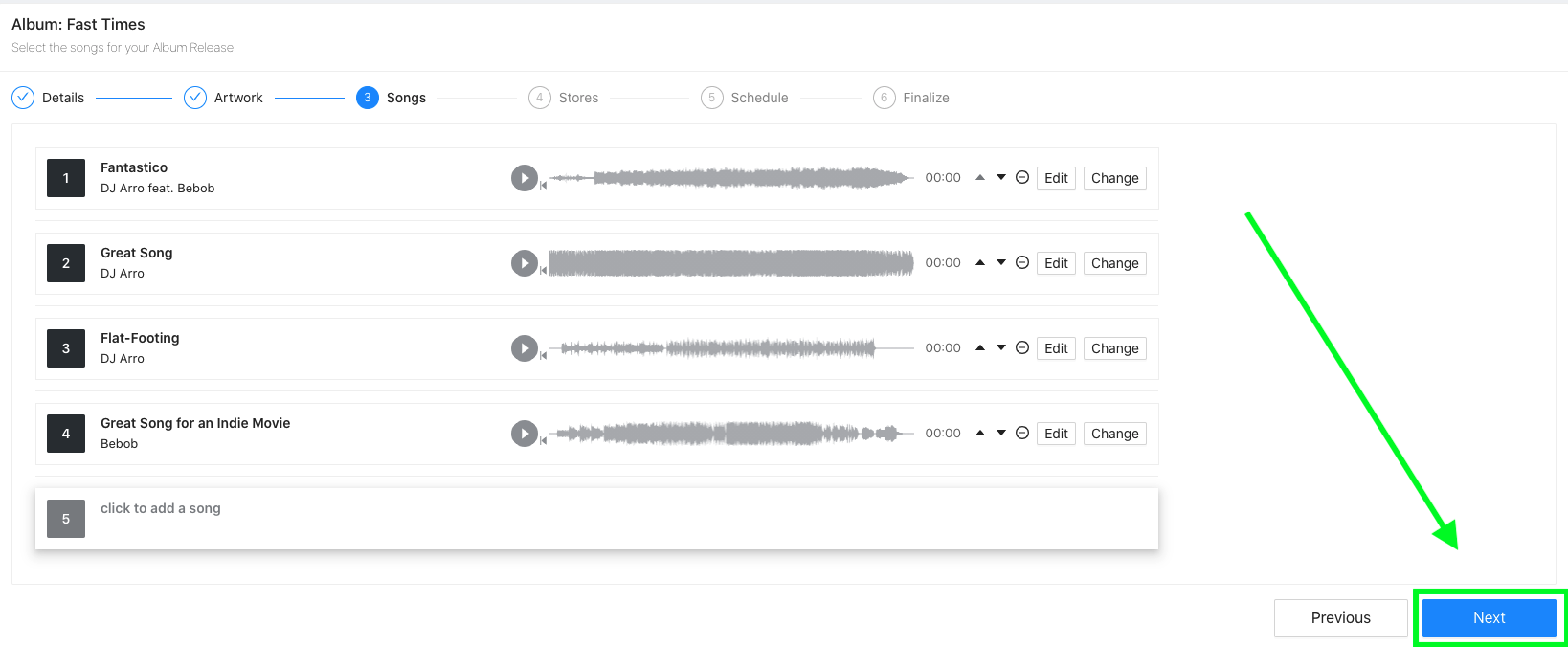 4) SELECTING STORES
Check all the boxes or select the individual stores you wish to have your music released to for distribution.

Click here to learn more about 'All Other Stores' and 'Future Stores'.

Select your

 

Download Pricing
Select your

 

Territories

Uncheck boxes of territories that you want to exclude from your release
Click

 

Save Territory

Click

 

Save & Next

 

when you are done
Note: You can return to any previous windows by clicking any of the steps in the progress bar e.g. Artwork.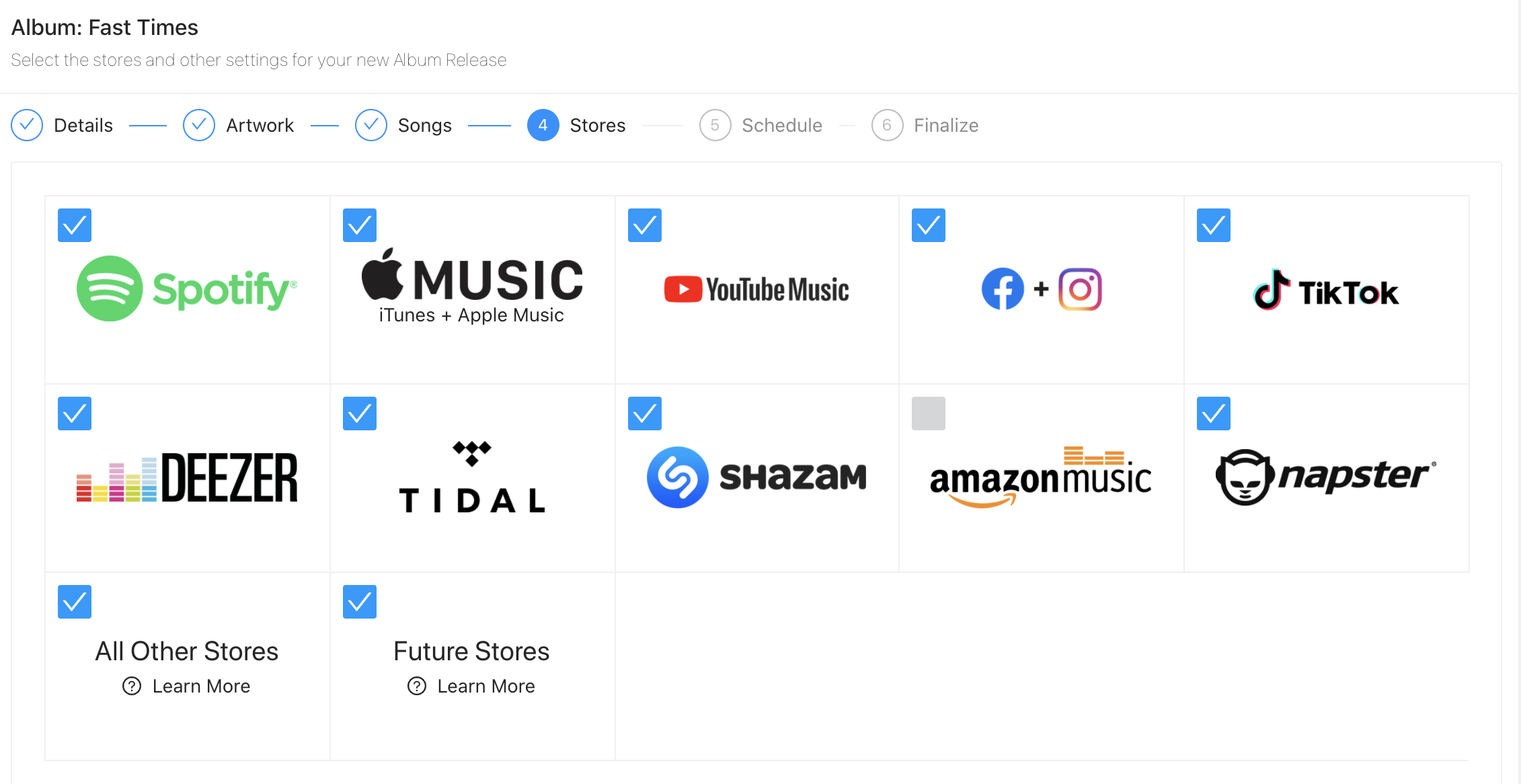 -----------------------------

 -----------------------------
5) ORGANIZE YOUR SCHEDULE USING 3-OPTIONS
For best practices and tips for scheduling your release(s), click here! 
- Standard Delivery: The default delivery time is 14 days. We deliver releases as scheduled but cannot always guarantee exact dates as each streaming platform's release policies may differ.
Open Choose Date calendar to select your exact release date
- Pre-sale / Pre-save: The default delivery time is 14 days. However, you will have the option to promote your upcoming release and launch with impact by pre-selling your music on Apple Music, Amazon, and other download platforms. Pre-sales typically publish 7 days before your release date. Please factor this into your release schedule.
Promote your upcoming release and launch with impact by pre-selling your music on Apple Music, Amazon, and other download platforms.
- Priority Release: If you have a short deadline or, for any reason, don't wish to wait 14 days for your single/album to come out, you can purchase a Priority Release. This will push your album to the front of the line and have it released on all major platforms within 3 business days.
Ensure a rapid release of your music on major platforms within 72 hours.

The Choose Date field will disable as you will not be able to select a specific release date for a Priority Release.
Note: If your single has been released previously, follow the steps below! The original release date cannot be in the future of the release date you are selecting for this album.
Switch the

 

'This Single or Album has been released before'

 

toggle to ON (Blue)
Select the

 

Original Release Date
Enter the

 

Original Release UPC or EAN code
Click

 

Save & Continue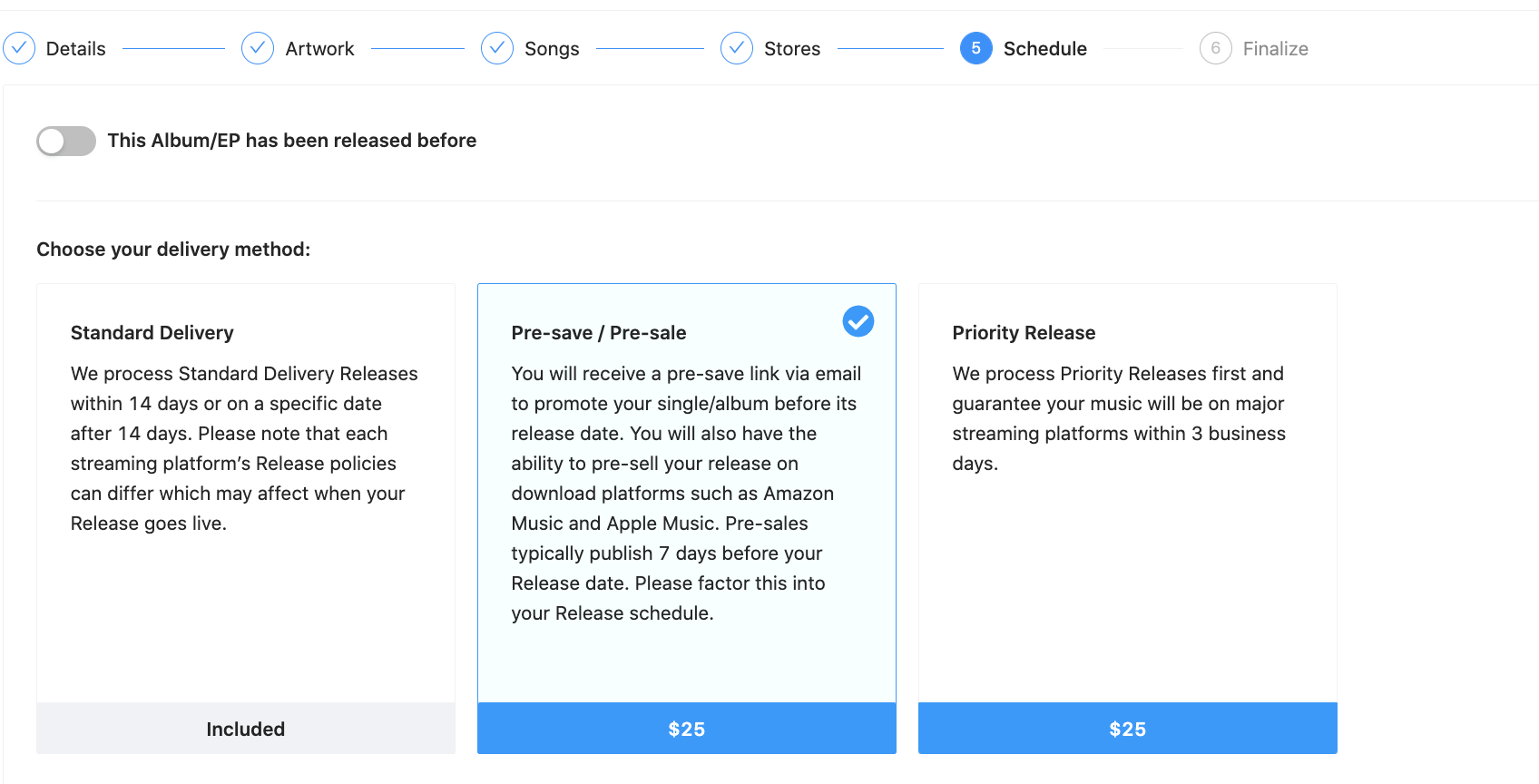 6) TIME TO FINALIZE!
View a Preview of how your release will appear on the major streaming platforms
View Subscription Plan & Add On to see if your current plan covers the release or if you need to upgrade
Confirm final validations
Proceed to payment (if applicable) and Submit!
Congratulations, you have just distributed your release!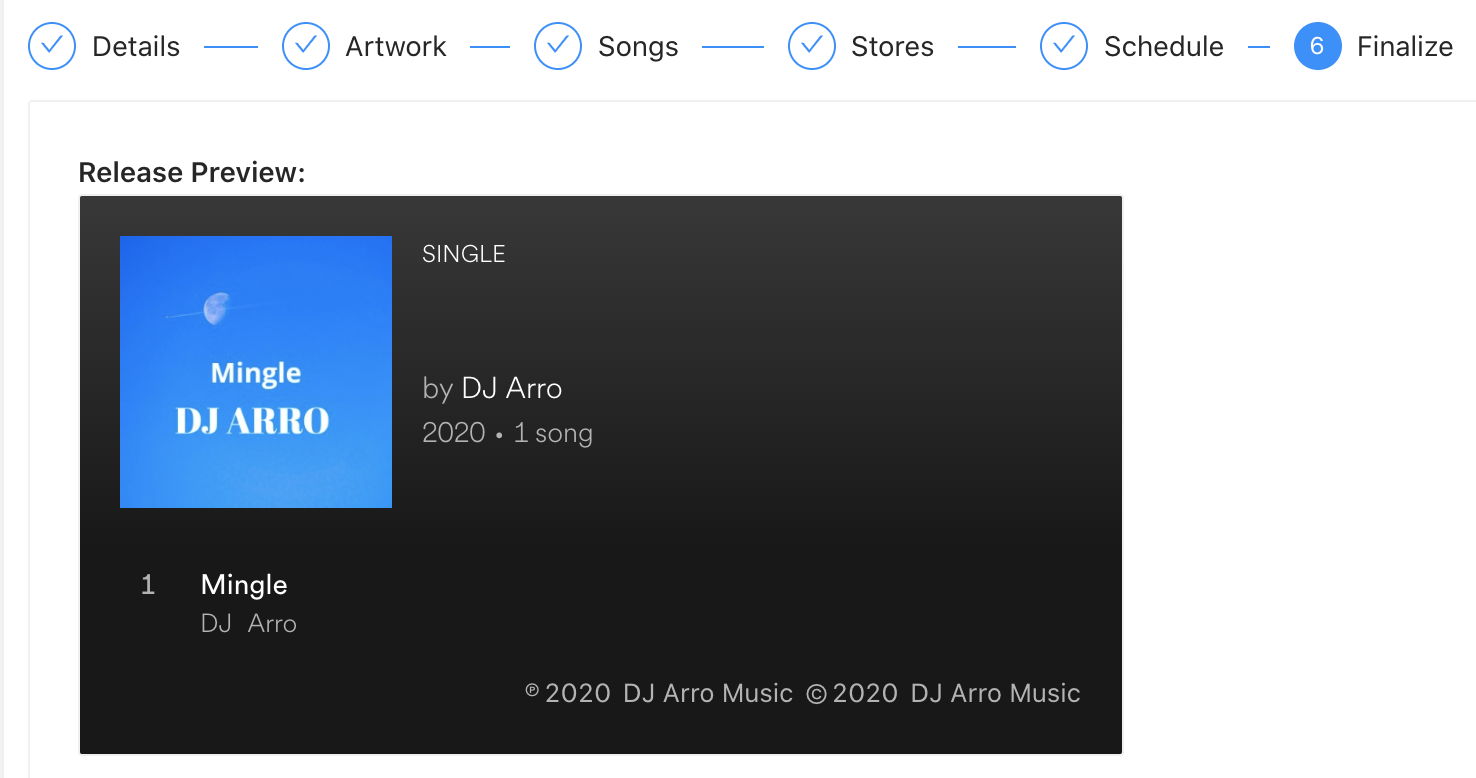 -----------------------------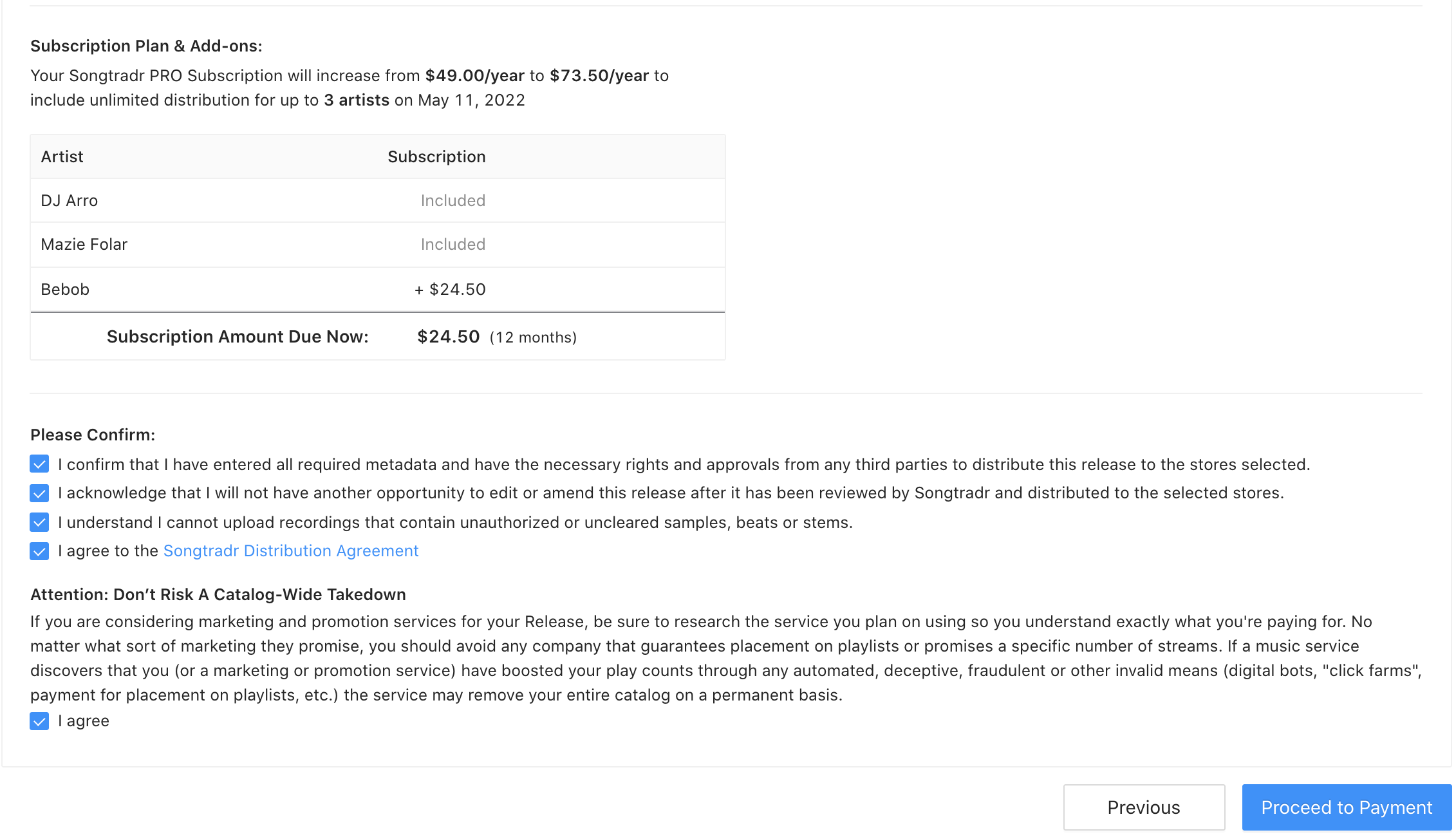 Important note: If your release is missing from one of the platforms selected, the platform may still be processing your release due to high delivery volume. They may also require additional information before they are able to process your release. You may want to reconfirm that particular platform was selected during the distribution process.
After the release date, you can locate your Spotify and Apple Music profiles in your dashboard
Click on Releases
Click on a Completed Release
Click View on Spotify to find your release on Spotify
Click View on Apple Music to find your release on Apple Music

Next Step: Let's better understand your Distribution Earnings Reports here.