Songtradr's Monetization Portal has been designed to facilitate efficient licensing of large quantities of music. Songtradr works with various clients who require large quantities of music for a range of uses including music in shops, restaurants, hotels, apps and games to name a few.  
To facilitate licensing to our clients, the Monetization Portal contains Opportunities that represent various licensing types such as Overhead Radio, Apps, Games & Platforms and Compilation Albums. You can opt in any or all of your songs into each of the Opportunities. Those songs then become immediately available for licensing under the terms and conditions of that Opportunity. 
Clients are listed under each of the Opportunities and can search, shortlist and license any music you have opted in. If any of your songs have been selected by a client, those songs will be in a Deal. You can track earnings and usage data for any Deal (described further below). 
IMPORTANT NOTES:
You will only be paid for any actual usage of your songs. Songtradr clients report usage periodically (generally monthly or quarterly) and payment will be made to your Songtradr account once we receive payment and usage reports from the client.

Review the terms and conditions carefully for each deal before opting in your songs to be sure you fully understand any specific parameters or restrictions to those songs for the deal period.

Note: Some Opportunities are only available to Songtradr Pro users. Upgrade here >
Press play below to watch a quick YouTube tutorial about setting up music for monetization prior to completing in your dashboard.   
______________________
To access the Monetization Portal:
Login to your account

Click

Monetization

on the left navigation bar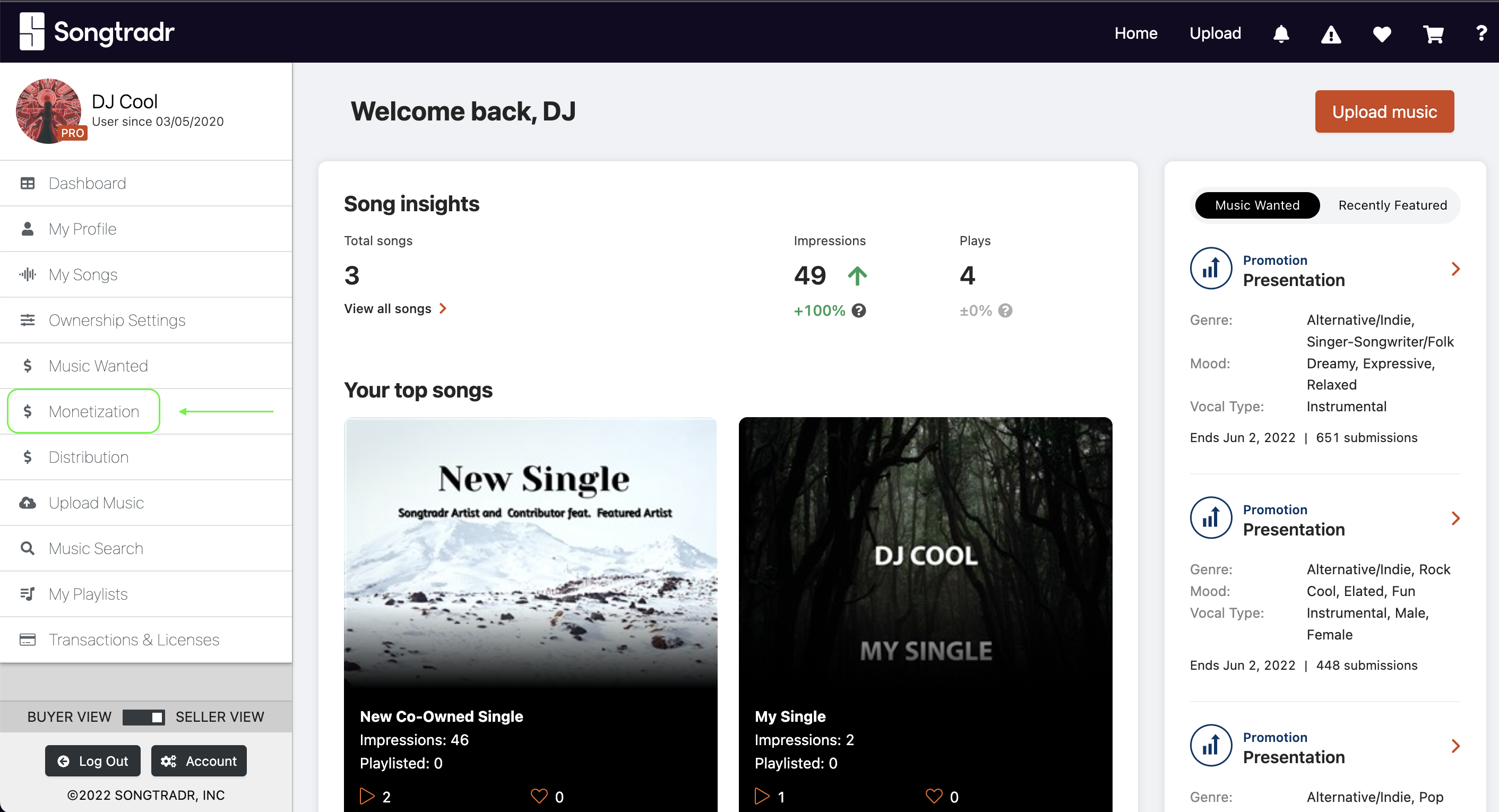 You are now in the Monetization Portal which lists all current Opportunities
To learn more about any of the

Opportunities

, click

View or Opt-In
If Opting-In for the first time, this will open up the Opportunity details. When you have reviewed, click Next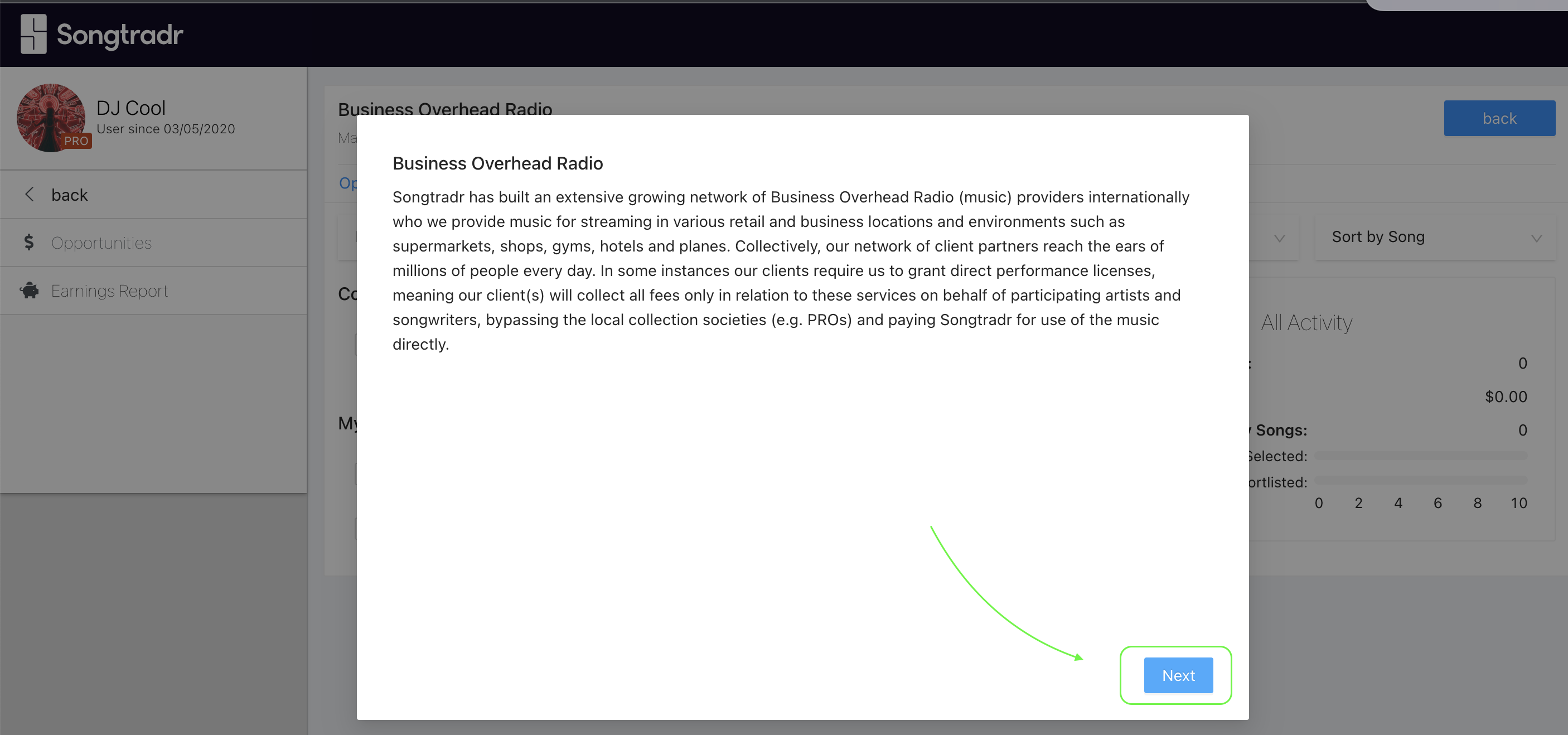 This will open up the Terms & Conditions for that Opportunity.
Review and click

Accept

to begin opting in your songs or

Close

to exit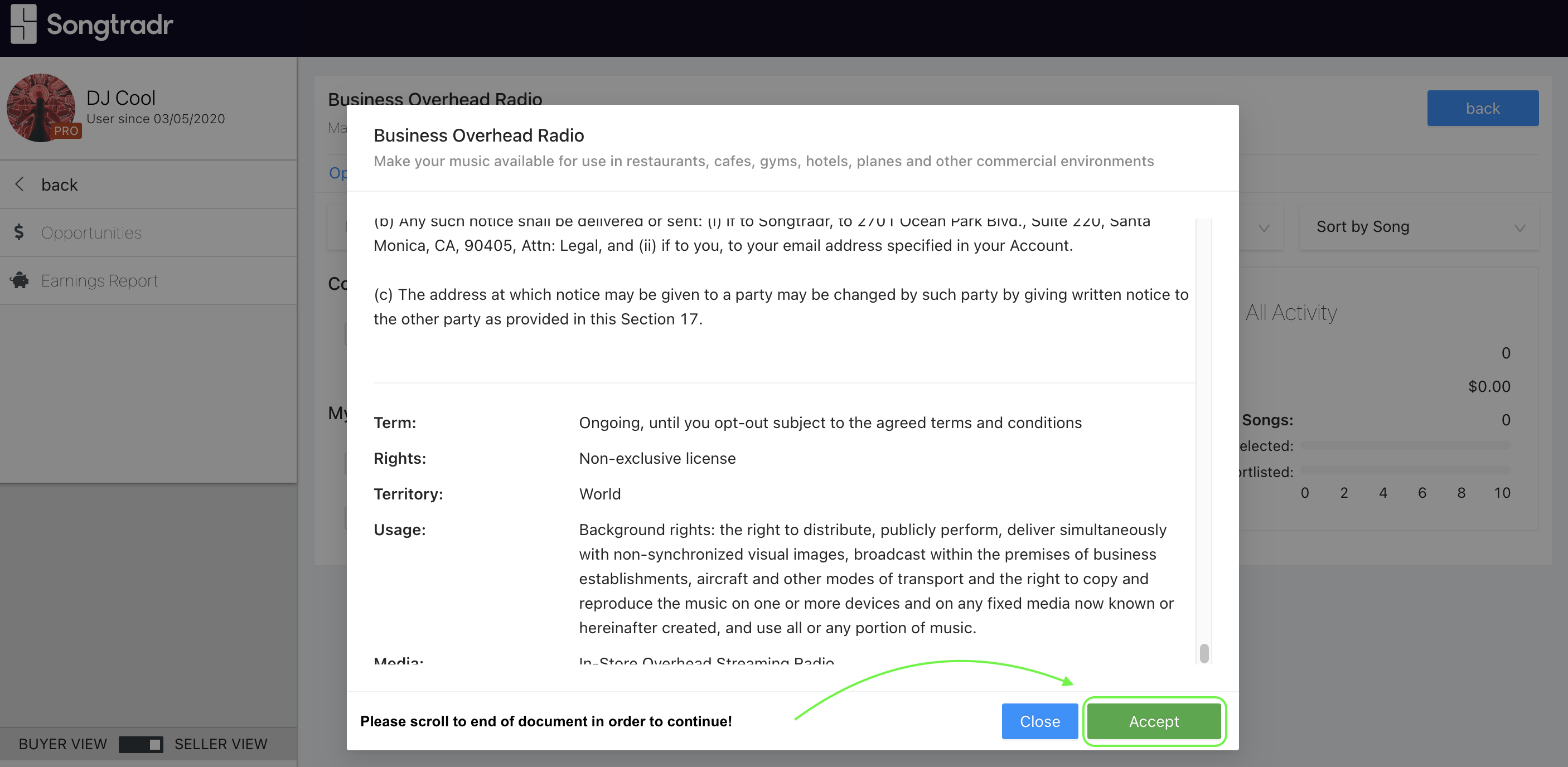 Opting in all your songs:
To select all songs, click

Opt-in All Songs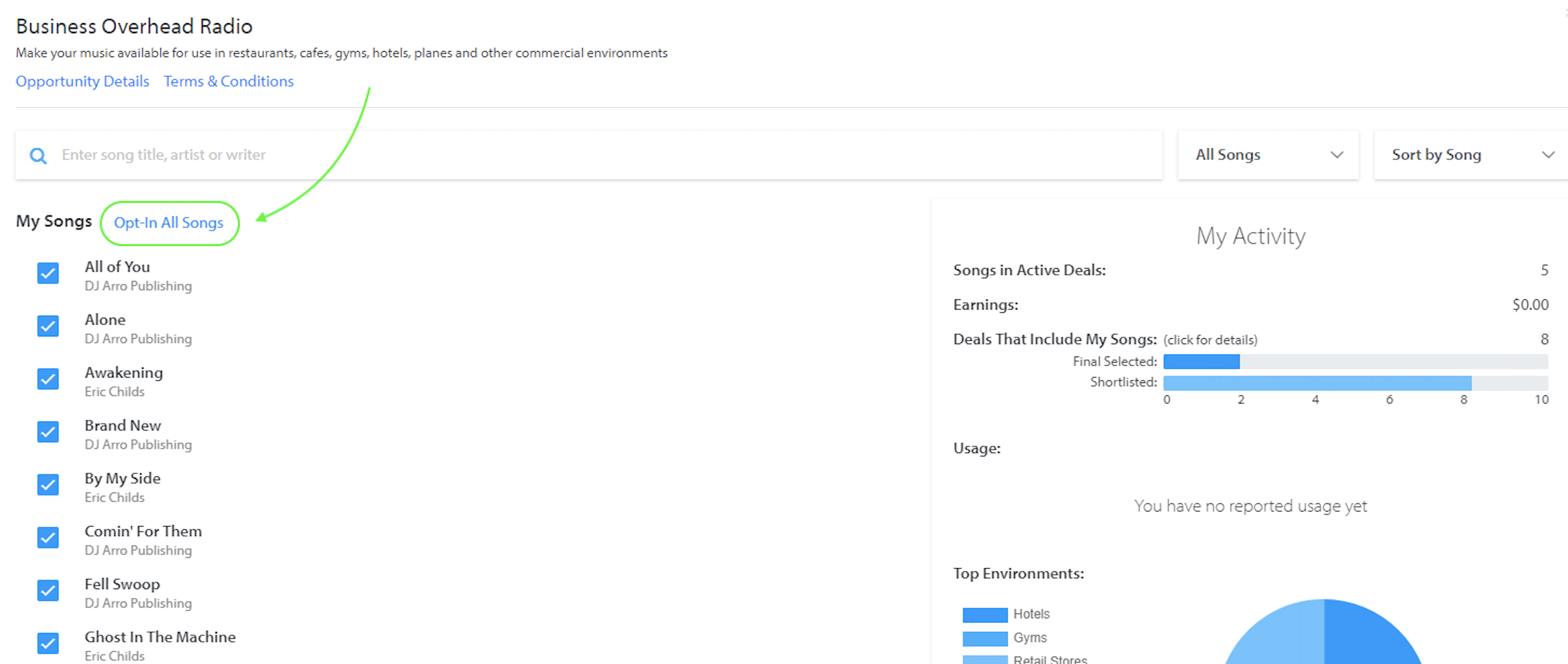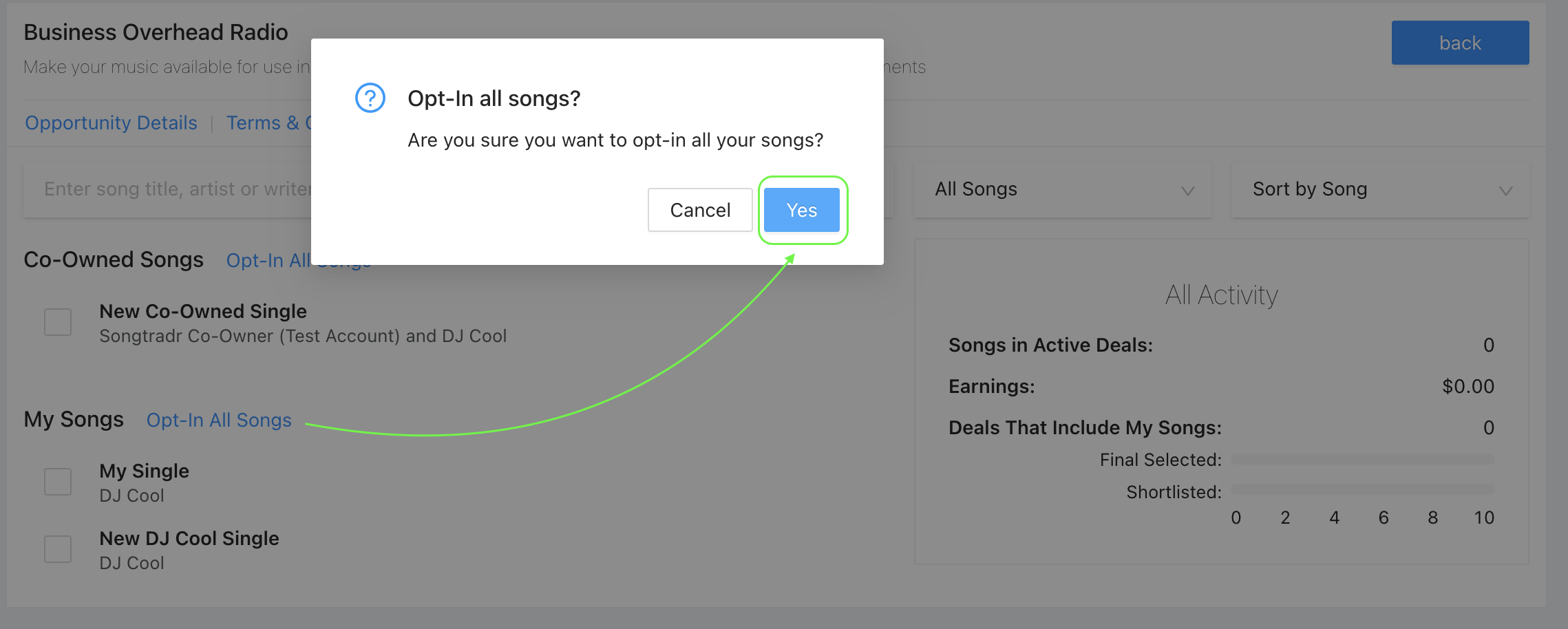 Opting in some of your songs:
Click the checkbox to the left of each song you wish to opt in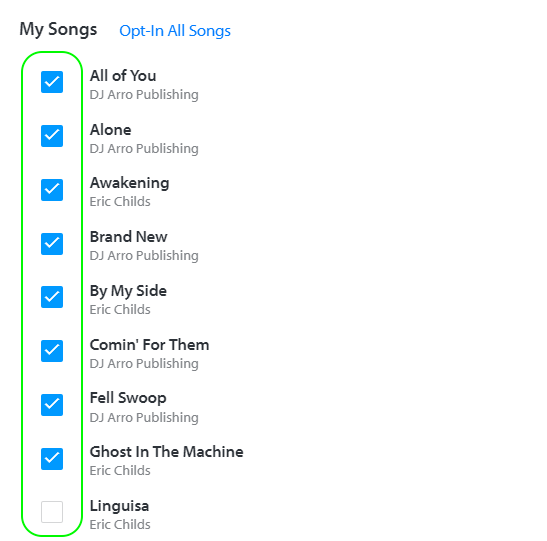 Use the search to quickly find specific songs in your catalog, by entering

song title

,

artist

or

writer

. To filter your search further, use the

All Songs

and

Sort By Song

dropdowns to the right of the search bar.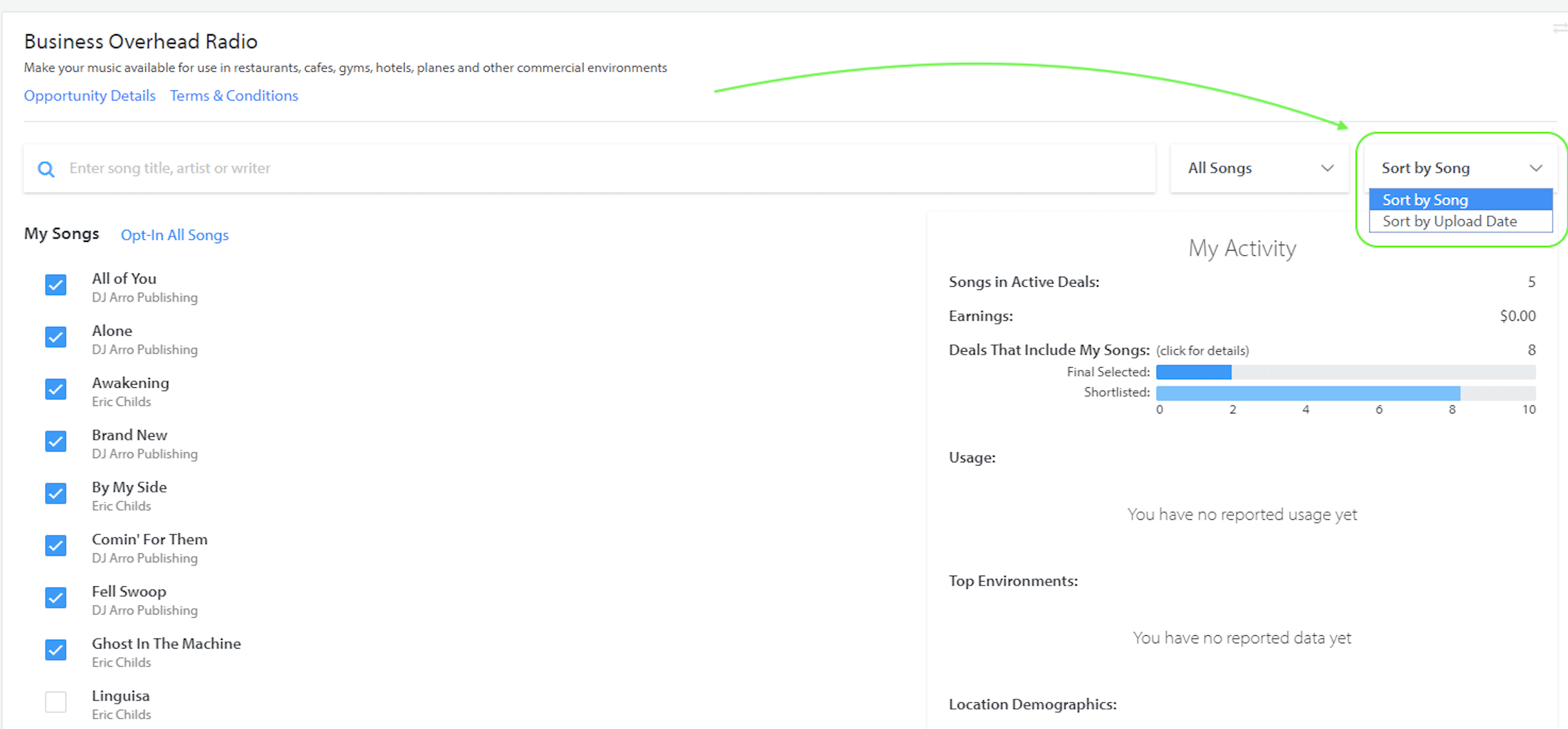 Notifications:
When there is activity for any of your opted-in songs, you will receive an email and a notification on your dashboard e.g. shortlisting, delivery, licensed.
Dashboard notification

Email notification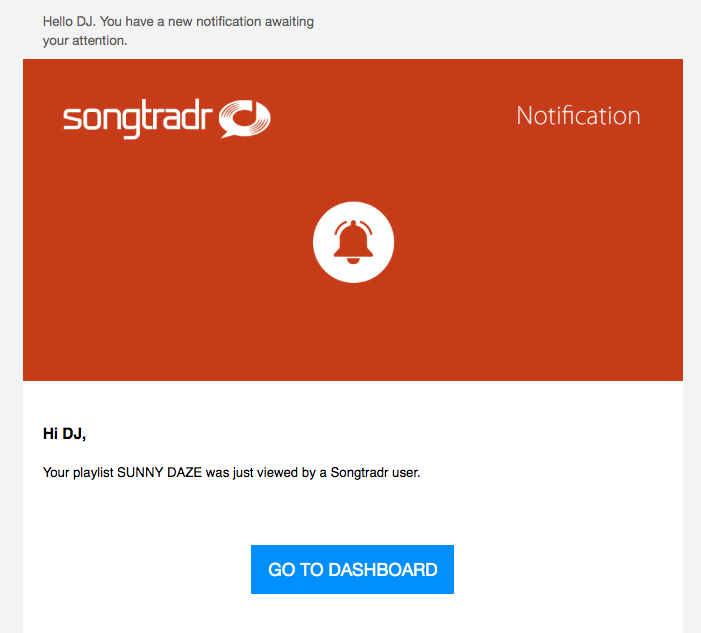 Track My Activity in Opportunities:
You can view and manage all your Opportunities at any time by clicking Monetization on the left navigation bar.
Click any of your opted-in

Opportunities

On the right hand side,

My Activity

will show any recent activity such as:

Songs in Active Deals
Earnings
Deals That Include My Songs
Usage
Top Environments
Location Demographics
Hover your mouse over the blue-highlighted areas for more detail.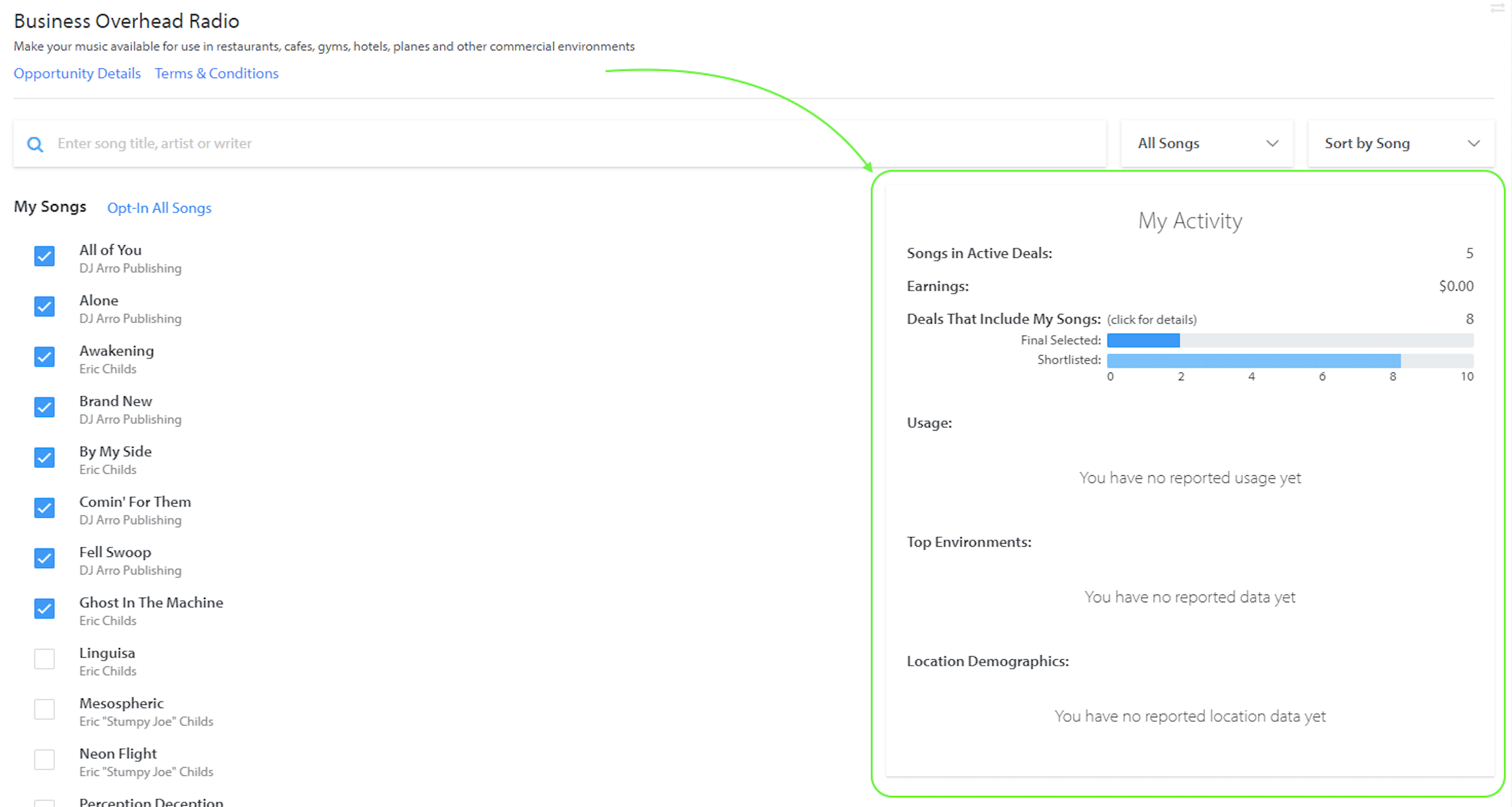 It's important to know that opting into Opportunities in the Monetization Portal does not guarantee usage or a license. Go to Transactions & Licenses > Monthly Earnings Report to view any payments.
Next Step: Learn more about Songtradr Pro here.