Songtradr offers an intelligent, comprehensive pricing system which automatically sets pricing to align with industry standards as well as how your music will be used by the buyer. This system is called Default Pricing.
Default Pricing is the recommended setting for your catalog to allow for easier, faster licensing. If you would like to use this default setting, you do not need to take any action.
Will I get a license faster if my music is priced?
Yes, it saves time for the prospective licensee. Songtradr recommends all of our content partners price their music using our Default Pricing. Pricing your music on Songtradr is similar to distributing a product in a store where all goods for sale have a price. Now imagine shopping at a store where none of the goods are priced. 
Pricing could be crucial to the buying decision where tight production timeframes require easy licensing. The licensee might not have the time or inclination to haggle over a license fee and would prefer to know the license cost when they audition the song. The more complete your song details are, the better your chances of getting it licensed.
How should you price your song?
| | | |
| --- | --- | --- |
| Before deciding on your license fee, one thing you can do is take a look at what other similar artists have set. | Be realistic about how much you ask for. If you are an unknown artist or songwriter, you should price your music accordingly as you are inevitably competing with known and researchable sellers. | Using our Control Pricing Fader, you can choose what price best represents you by moving the slider from low to high to populate pricing. Once set, your music is automatically priced based on the usage requirements of any buyer. There are thousands of different licensing possibilities and our platform allows you to price your music for almost any possibility. |
If you wish to actively control pricing of your music, you can customize based on the type of project, geographic territory and more.
1. PRICING CONTROL - "DEFAULT PRICING"
Use this method if you would like uniform pricing across every song in your catalog.
Let's get started!

 
Login to your account

Click

My Songs

on the left navigation menu


A list of project types will appear.
Each project type will be checked by default, allowing your music to be opted in for Automated Licensing.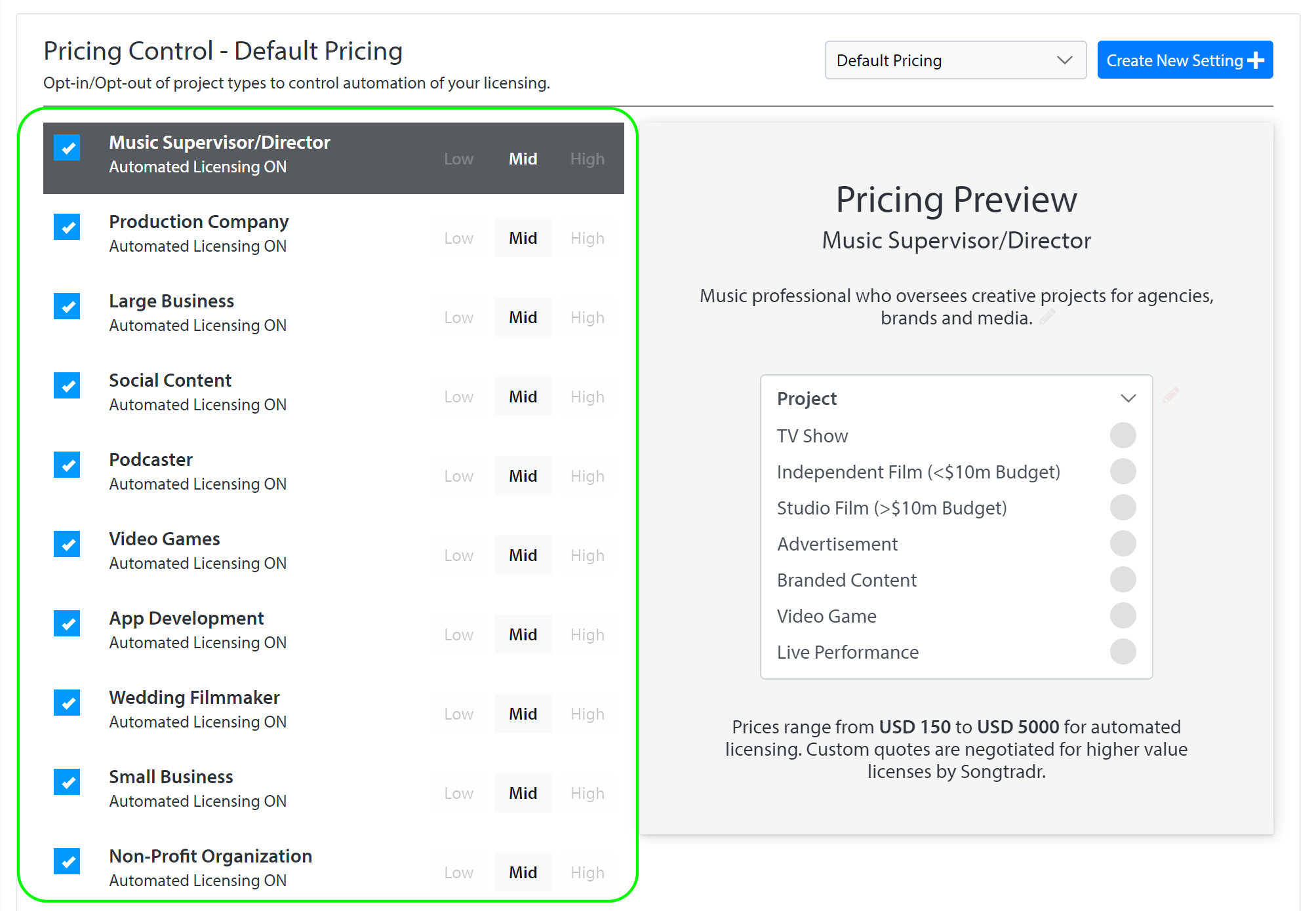 You will also see that each project type pricing range is set to

Mid

. You can select

Low

,

Mid

or

High

.

If you would like to opt-out of

Default Pricing

for any project type, uncheck the box which should then appear grayed out.

IMPORTANT TO NOTE: by opting-out of Default Pricing, you are removing the ability for any potential buyers to complete a license in one seamless transaction. They can still enter their project details but will need to wait for a custom quote.
PRICING PREVIEW
As you customize your Pricing Control Settings, the Pricing Preview window to the right will calculate and show license pricing as a buyer would see it. Changing parameters such as project type changes the subsequent fields which need to be filled in. This, in turn, affects the final calculation.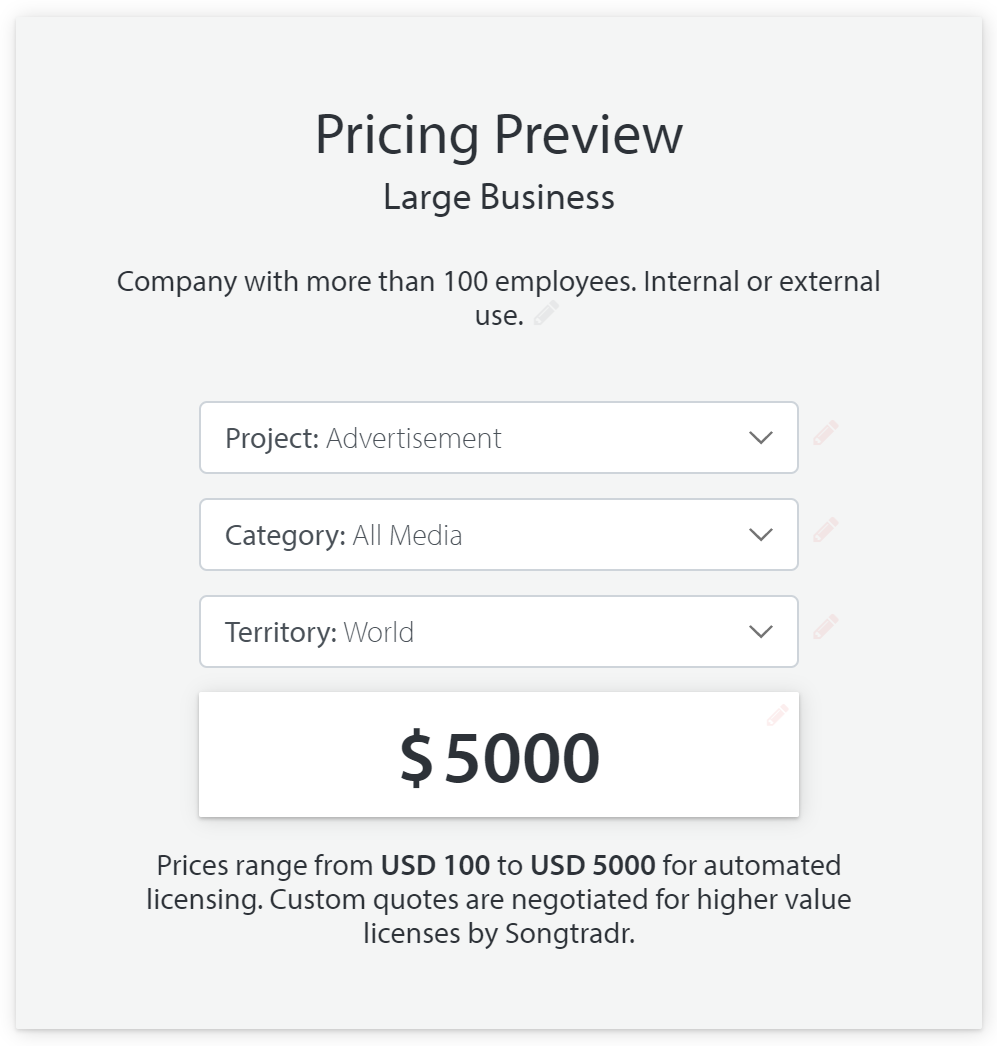 Additional Settings
Near the bottom of the Pricing Control Settings page, you can further customize your preferences.
Red checkboxes
Allow Songtradr to negotiate any non-exclusive licenses for me
If the box is CHECKED, you allow Songtradr to immediately negotiate license pricing on your behalf for any non-exclusive custom quote inquiries

If the box is UNCHECKED, Songtradr will need to contact you for pricing in order to negotiate with a potential buyer
Allow Songtradr to include my music in any non-exclusive Monetization deal
If the box is CHECKED, you allow Songtradr to include your music in a non-exclusive Monetization deal, even if you did not choose a pool on the Monetization page

If the box is UNCHECKED, you opt-out and Songtradr will not include your music in any Monetization deals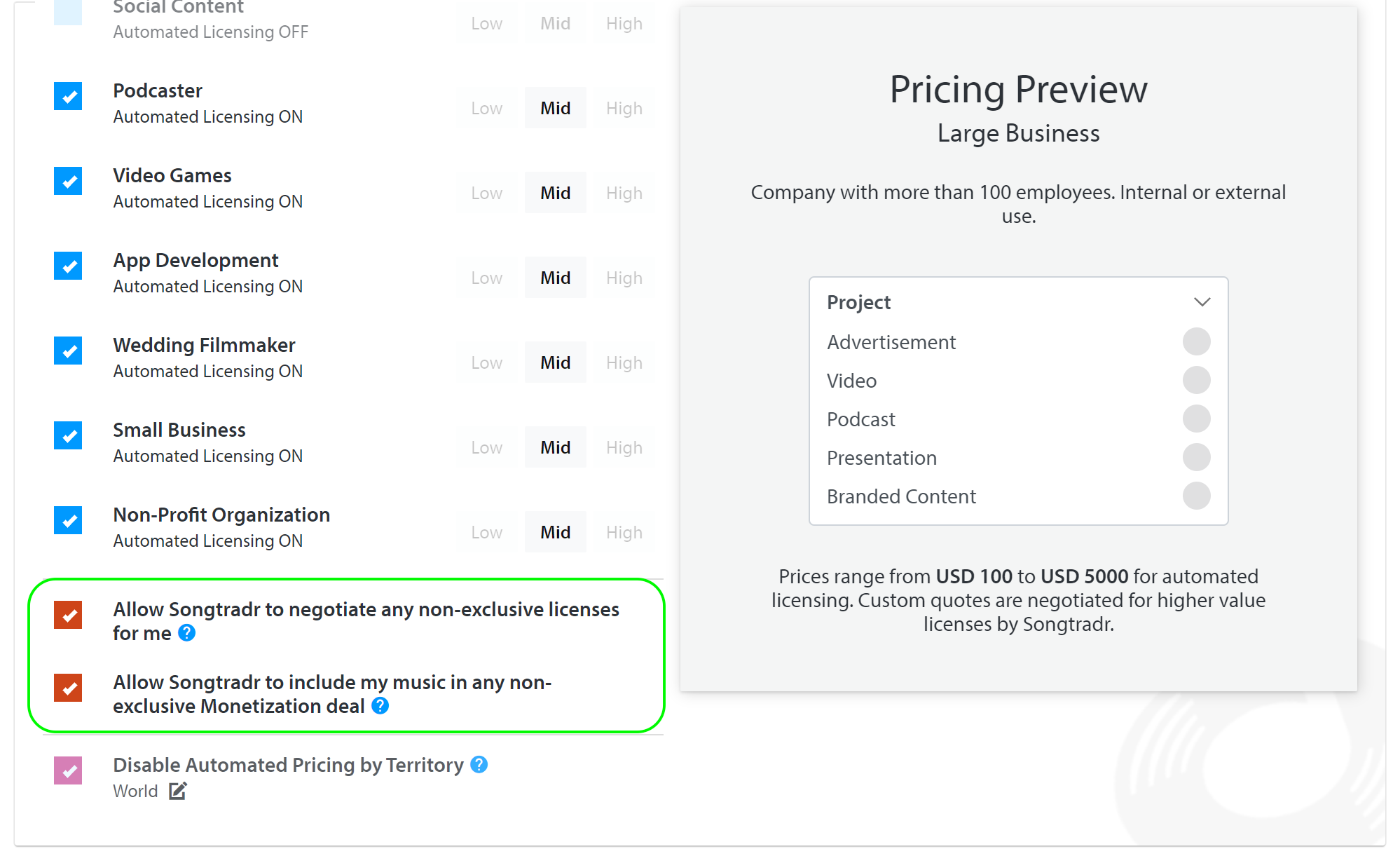 Magenta checkbox
Disable Automated Pricing by Territory
Click

World.

The

Define Territory

window will appear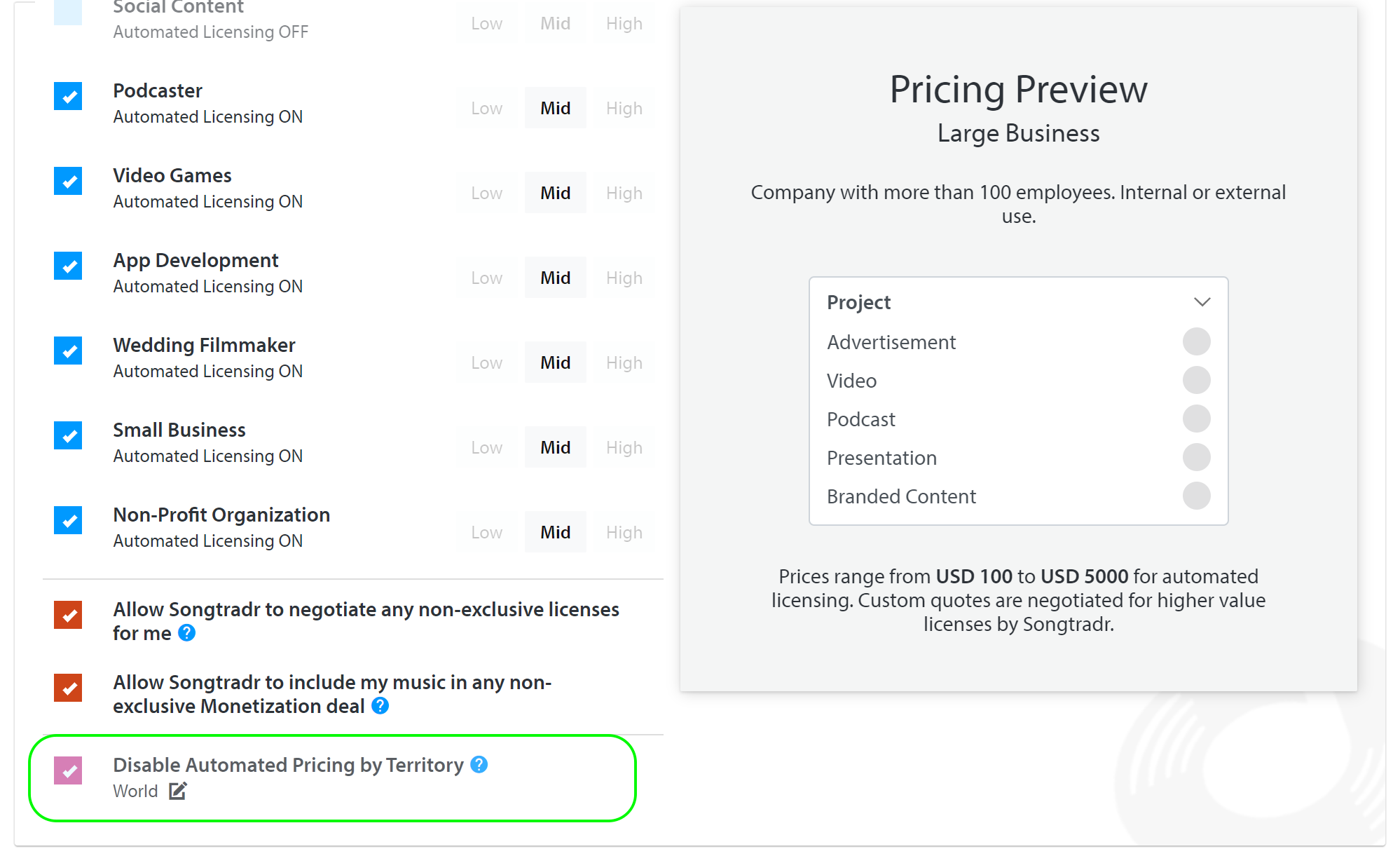 To disable individual territories, uncheck the box beside it. This will automatically disable

Automated Pricing

for the

World

Click

Save Territory

to activate your changes
Anything you customize on the Pricing Control Settings page will be automatically reflected in the song's Public View, providing buyers with clear usage and pricing offered.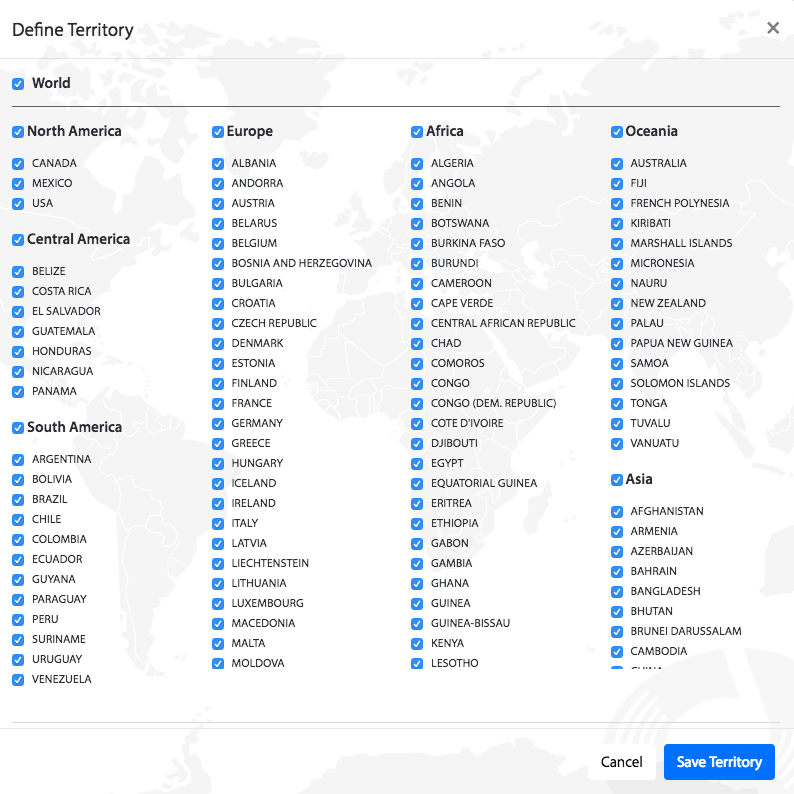 2. PRICING CONTROL - "CREATE NEW SETTING+"
Use this method if you would like to create a custom pricing setting which can be applied to any song or to your entire catalog. This can be done at any time.
Opt-in or out of the project types and select your additional preferences in the red and magenta checkboxes (described above) to customize your pricing for this setting

Click

Create New Setting+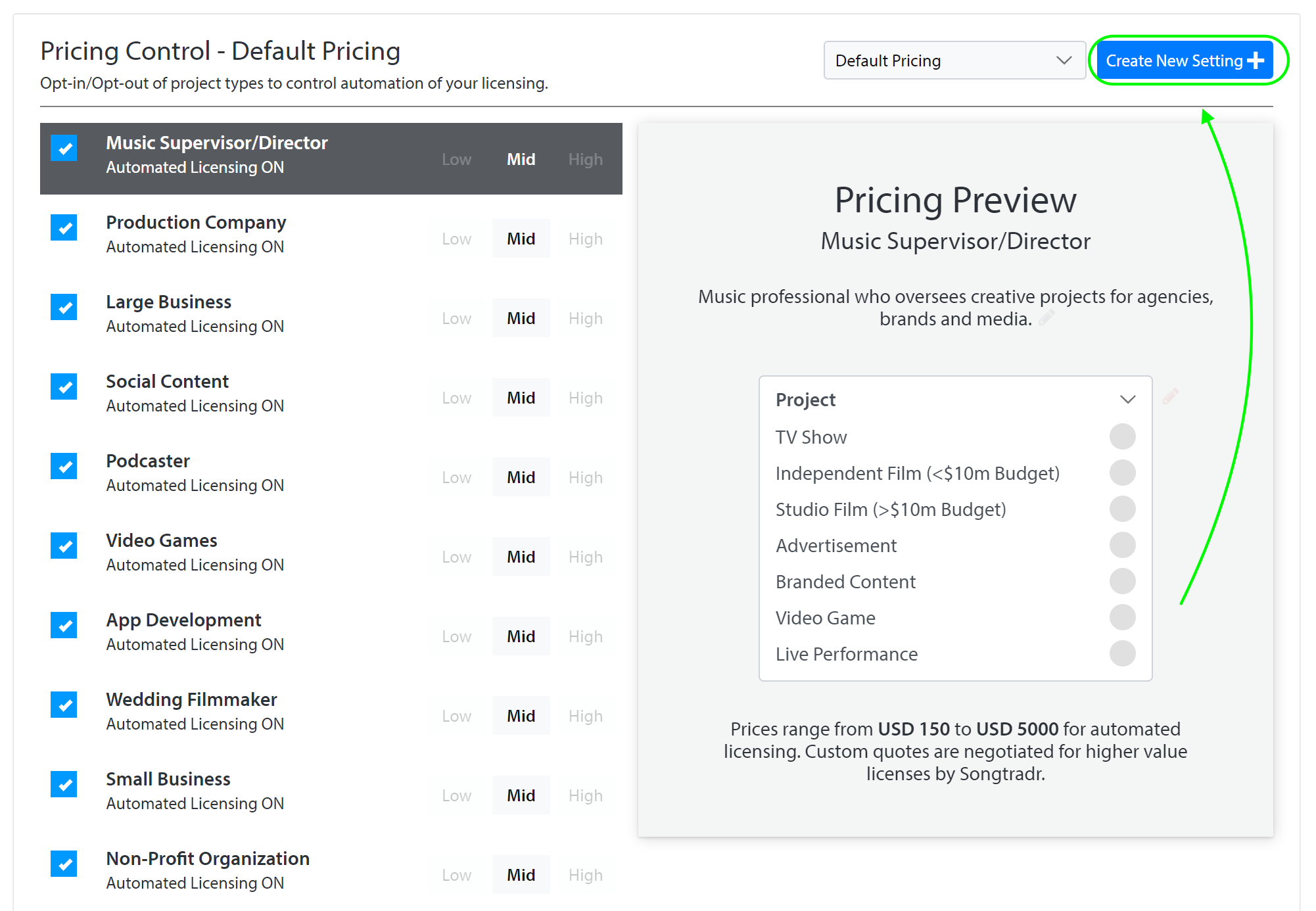 Enter the name of your new setting in the pop-up window

Click

OK

Your newly-created setting will appear in the dropdown for use at any time.
3. PRICING CONTROL - BY INDIVIDUAL SONG
Use this method if you would like to modify pricing for a particular song in your catalog.
Let's get started!
Login to your account

Click

My Songs

on the left navigation menu

Click the song you would like to set pricing for

Navigate to the Pricing tab 
Click View/Edit

From here, you have three options:
Option 1 - Using Default Pricing:
This is the automatic setting for all songs in your catalog which means all boxes will be checked.
Use the Select Pricing Control Setting dropdown and choose Default Pricing
Click Save

Option 2 - Select a previously saved setting:
Use the Select Pricing Control Setting dropdown to choose from previously created settings
Click Save

Option 3 - Create Custom Pricing:
Click Custom Pricing

Select or deselect the relevant project type(s)

Select

Low

,

Mid

or

High

for any project type

Customize additional preferences with the red and magenta checkboxes

Click Save