It's essential to have your music on Spotify as it is the biggest streaming platform in the world and the home of music discovery today. Tastemakers and curators use Spotify to shine a light on emerging artists.
As soon as Songtradr gets your music on Spotify you will have access to Spotify for Artists.
With Spotify for Artists you will immediately be able to: 
Customize your header and profile image
Edit your biography
Pin new releases, singles, curated playlists, or anything you want to the top of your profile
Share others playlists
Promote concert and tour dates
View analytics
Share pictures
Once we upload your music, Spotify connects the release to an artist profile. This means they will create a new profile or add the new release to an existing profile. It's also a good idea to check they make the connection to the correct profile.
On some artist profiles, you may see a blue checkmark which means that profile is verified. The verification is available for all artists and there is no longer a minimum number of followers requirement.
Access Spotify for Artists here: Spotify for Artists >
HOW TO CLAIM YOUR ARTIST PROFILE:
First step is to copy your Spotify URI
Navigate to your Spotify profile
Hover over the 3 dot icon
Hover over

 

Share
Click

 

Copy Spotify URI
Note

: 

If you see that the sharing options in the context menu have been reduced to Copy Link and Copy embed code, you can still copy Spotify URIs if you hold down the modifier key (alt/cmd) in the share menu.
Once you copy your Spotify URI, navigate to the claim page on Spotify For Artists >
Click Artist or manager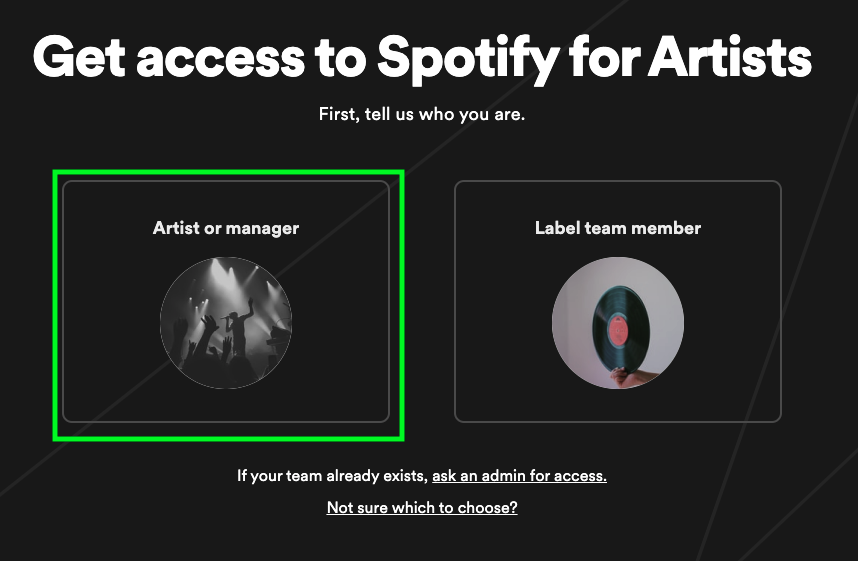 Login to your Spotify account or create one that you want to associate to manage that artist profile
Click Continue to Claim an artist profile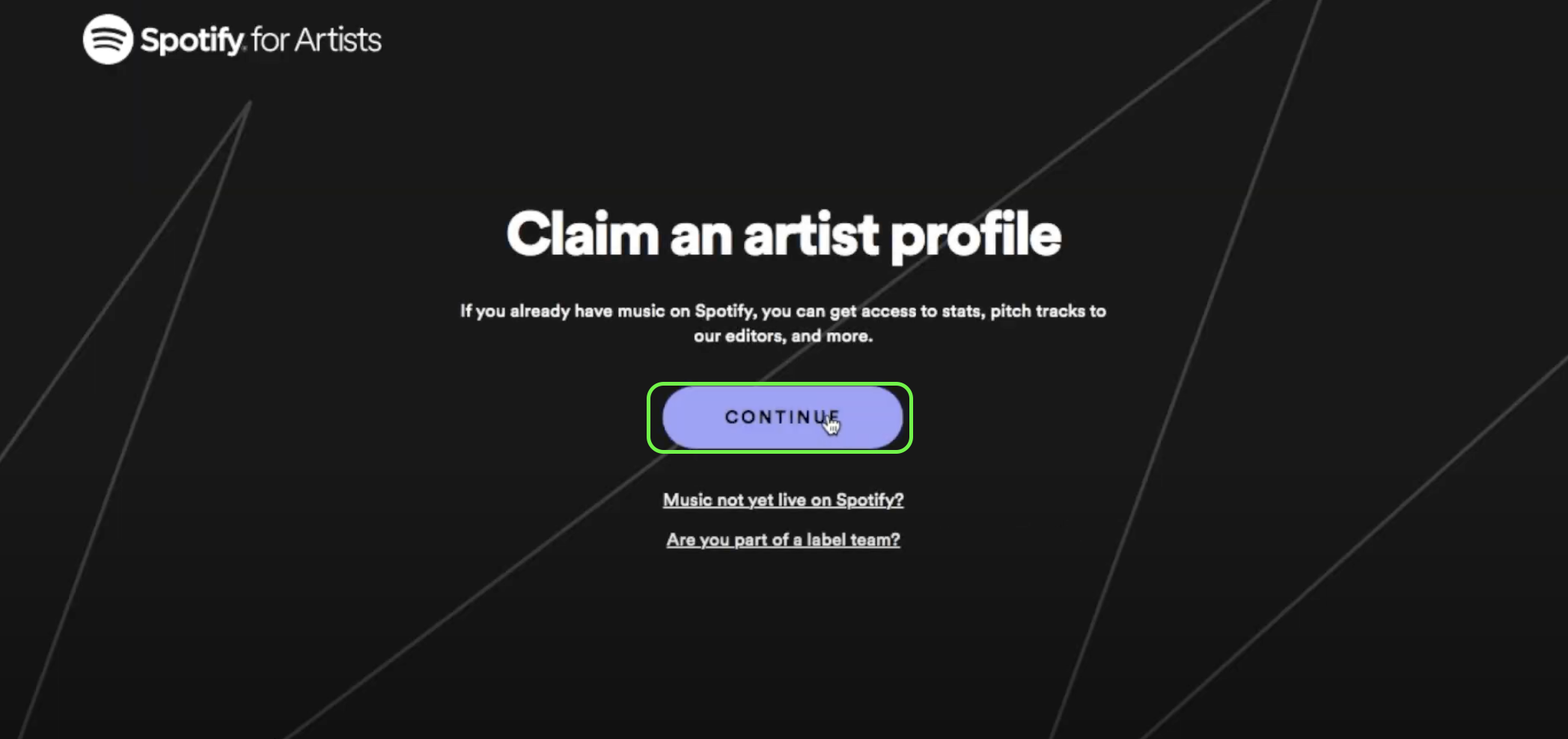 Search for your Spotify Artist Profile by name or paste Spotify Artist URL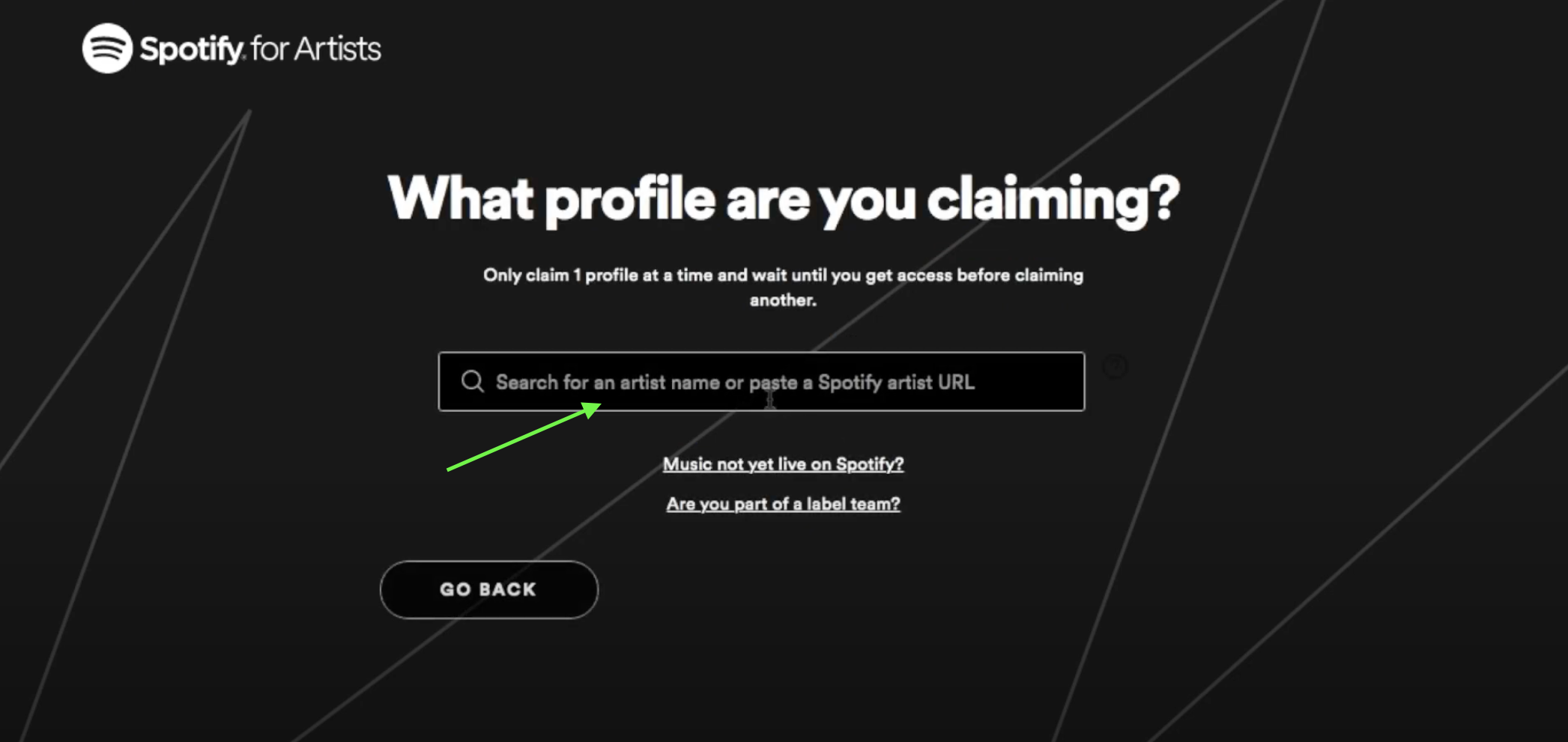 You will then have to link your profile to your website, twitter and/or instagram account in order to verify your identify. 

 The Spotify team will review your request and get back to you within 3 days.
Note: Please contact Spotify support if your profile is claimed by another party.
Next Step: Learn how to submit your music to Spotify Playlists, here >