Log in to your account
Click Upload Music on the left navigation bar

Click to select files from your device or drag and drop to the upload window (We recommend only uploading lossless audio files such as .WAV or .AIFF)
Once your files have loaded, choose an ownership type from the Ownership Template dropdown (you can select previously created Copyright templates here) and edit your New Song Title if necessary
Click Create
If you would like to connect additional files such as an instrumental or FX-free version, click Upload Additional Files
Click to select files from your device or drag and drop to the upload window (We recommend only uploading lossless audio files such as .WAV or .AIFF)
Once your song has loaded below the upload window, select your File Type
Enter your File Description
Choose which song to connect your additional file to from the Connect to Song dropdown
Click Connect
Your additional file is now connected to the main file and provided all information is entered correctly, is now searchable by the same parameters.
_____________________________________________________________________________
To view your connected files, click View Song

You are now on the Audio Files page in the Song Edit Center (which can be accessed anytime by going to My Songs and clicking the song itself)
From here you can:
Select an alternative Audio File
Change File Type
Edit your Description
Change which file becomes Primary (file that will show up on the public view of your track)
Preview each audio file (which is great to double-check your files!)
Click Save Audio Files when you're done editing

Clicking Public View is a great way to see what information will be displayed to the public. From here you can EDIT, add to a +PLAYLIST, view your song icon (default is the Songtradr icon), view current stats, pricing offered and Included Audio Files.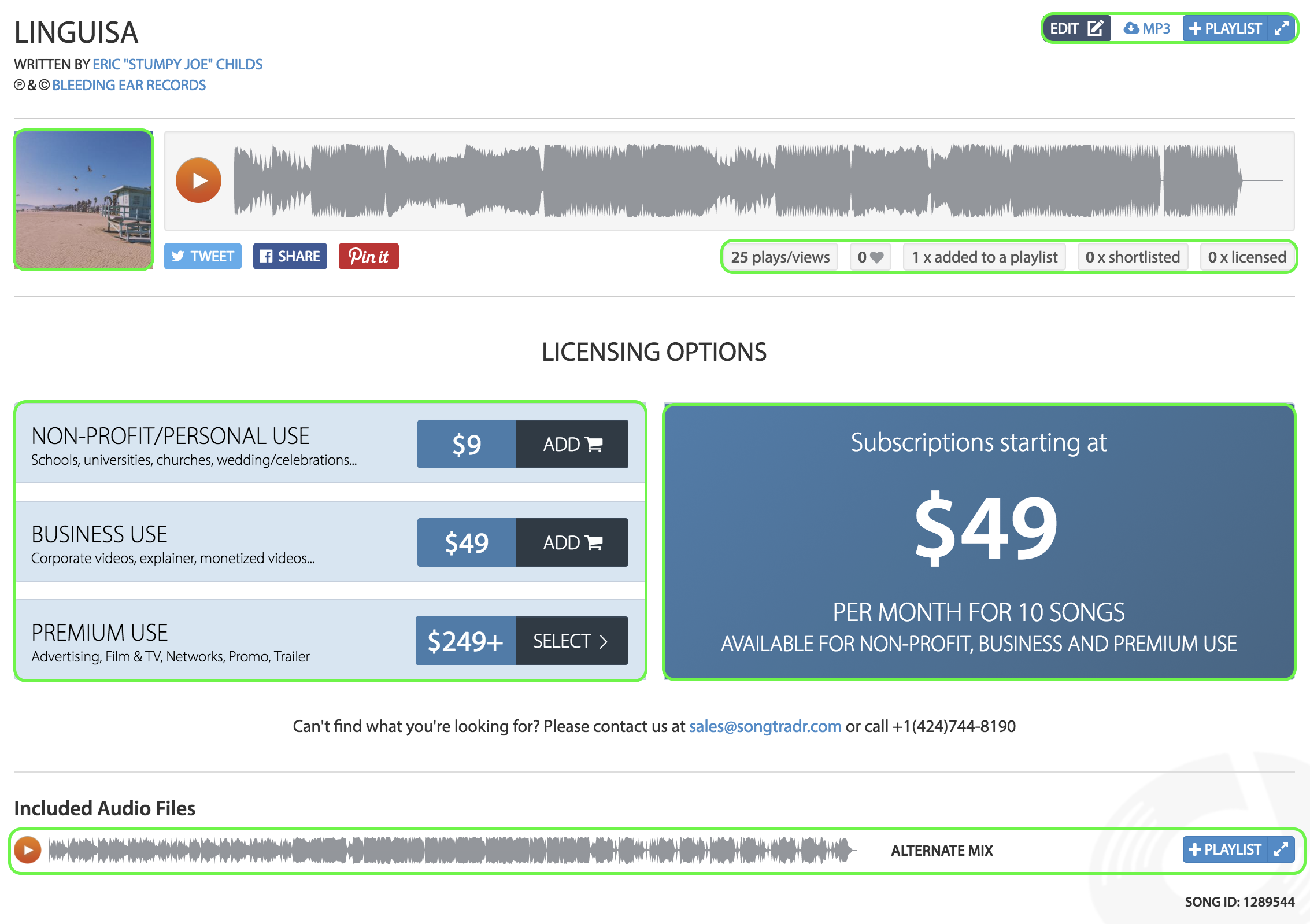 Next Steps
Enter and edit all important information for your song from the Song Edit Center > which covers such things as:
Entering Song Information >
About Cover Art for your Song >
How to Tag your Song >
Connecting Additional Files >
How to Add Copyright Owners >
How to Add Lyrics >
How to Add your Song to a Playlist >
How to Price your Music >
How to Replace Audio Files >
Important notes:
Ensure your writer, publishing, and master owner splits are filled out as quickly as possible. Your song will not be discoverable until these percentages are correct and consented.
Increase your song(s) chances of being discovered and licensed by including keywords, moods, and genres.